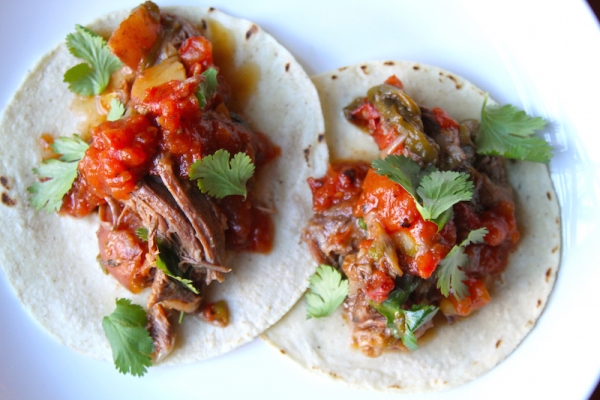 Ingredients
2

tablespoons

vegetable or olive oil, fresh-rendered pork lard or bacon drippings

2

pounds

boneless beef short ribs or boneless beef chuck, cut into 3-inch pieces (when using chuck, I buy a beef chuck roast and cut it into roughly 2-inch chunks)

Salt

3

large

fresh poblano chiles

2

medium

white or red onions, sliced ¼-inch thick

1

pound

small red- or white-skin boiling potatoes (I like ones that are about 1 inch across; if they're larger I cut them in halves or quarters)

Hot fresh green chiles to taste

(roughly 2 serranos or 1 jalapeño), stemmed, seeded if you wish and roughly chopped

1

15-ounce

can diced fire-roasted tomatoes, undrained

2

tablespoons

Worcestershire

1 1/2

cups

beef broth

Fresh hierbas de olor (aromatic herbs such as a few bay leaves plus a few sprigs of thyme and marjoram if you have them—otherwise a sprinkling of the same dried herbs will work)
Instructions
In the stovetop-safe insert of your slow cooker or a very large (12-inch) skillet, heat the oil, lard or bacon drippings over medium-high. When hot, sprinkle the beef chunks generously all over with salt, then lay them in the pan in a single, uncrowded layer.  Brown on all sides, about 10 minutes total.
While the beef is browning, roast the chiles over an open flame or close up under a preheated broiler, turning them regularly, until evenly blackened and blistered, about 5 minutes for open flame, 10 minutes for the broiler.  Place in a bowl, cover with a kitchen towel and cool until handleable.  Rub off the blackened skin, pull out the seed pod and scrape out the seeds.  Rinse briefly to remove any stray seeds and bits of blackened skin.  Chop the roasted chile into ½-inch pieces.
When the beef is browned, remove it to a plate, leaving behind as much fat as possible.  Reduce the heat under the insert of skillet to medium, then add the onion and cook, stirring regularly, until soft and richly golden, about 10 minutes.  If you're using a skillet, transfer the onions to the slow cooker.
Distribute the potatoes, roasted poblanos and hot green chiles over the onions, smoothing everything evenly over the bottom.  Sprinkle with 1 teaspoon salt. Lay the beef pieces in a single layer over the potatoes.  Distribute the tomatoes on top.  Sprinkle on the Worcestershire, then pour the beef broth over and around the meat. Nestle in (or sprinkle over) the herbs.  Cover and turn the slow cooker on to high.  Your Green Chile-Braised Beef will be done in 6 hours, though you can hold it for longer.  (My slow-cooker can be programmed to switch from high after 6 hours to a keep-warm low temperature for up to another 6 hours. Some slow cookers click to keep-warm automatically; others need to be switched manually.)
When you're ready to serve, remove the meat to a large, deep plate and coarsely shred it.  Stir everything in the slow cooker, taste it and season with salt, usually about ½ teaspoon depending on the saltiness of the broth.  Mix in the beef, spoon onto warm tortillas or into deep plates.