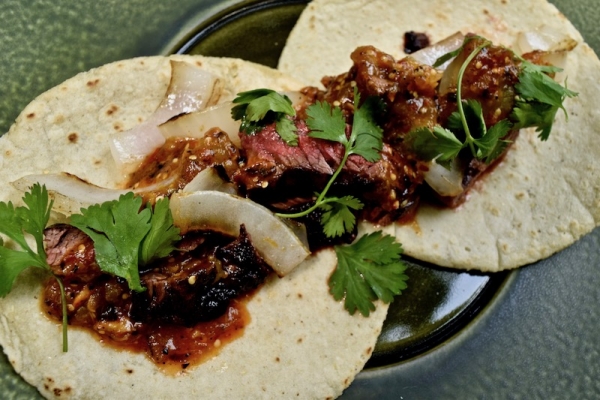 Ingredients
One

7-ounce can

chipotle chiles en adobo

1

pound

skirt steak (thinner "outer" skirt steak is most tender-it should already be trimmed of the exterior white membrane and surface fat)

1

large

white onion, sliced into rounds about 1/2-inch thick

3

tablespoons

vegetable or olive oil (divided use)

Salt

12

warm

corn tortillas

3/4

cup

Chipotle-Tomatillo Chipotle Salsa

, for serving
Instructions
Heat a gas grill (or grill pan) to medium or light a charcoal fire and let it burn until medium hot.  Scrape the can of chiles with its canning sauce into a food processor or blender and process until smooth to make a quick marinade.  Use a brush to coat the steak with the marinade. (Cover and refrigerate the remainder for up to several weeks to flavor other preparations.)  If your grill grates aren't well seasoned, spray or brush both sides of each steak with a little oil.
Lay the steaks on the hottest part of the grill and, after a few minutes depending on the temperature and thickness of the steaks, use a pair of tongs to check if the meat is ready to flip: it should have released itself from the grill and have rich brown grill marks.   Flip the meat and cook the other side until as done as you like: about 3 minutes per side for medium skirt steak. The meat will be juiciest if you let it rest in the oven for 5 to 10 minutes on a wire rack over a plate.
Spray or brush the onions with oil and sprinkle with salt. Lay them on the grill and cook, turning them from time to time, until richly golden and soft, about 10 minutes.  Remove to a cutting board and cut each round into quarters.
Cut the skirt steak into roughly 3-inch lengths, then cut each piece across the grain into ¼-inch strips.  Toss the meat with the onions. Taste and season with salt, usually about 1 teaspoon. Serve with the warm tortillas and salsa for making soft tacos.