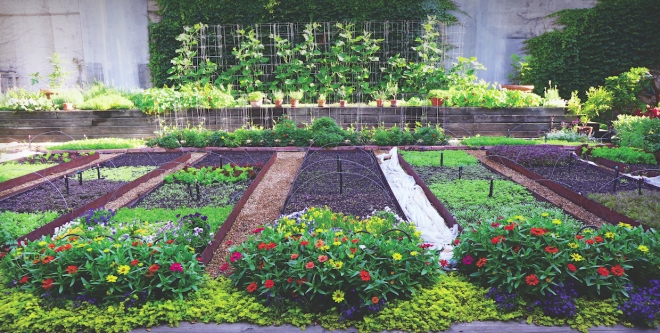 If you're traversing the city's 606 elevated park in Bucktown and look down to see a spectacularly lush and colorful landscape, you've found the Bayless Gardens.
The sun-soaked 1000 square-foot backyard area is the main production garden where 13 raised planter beds produce a bounty of specialty salad greens, edible flowers and herbs destined for Rick's restaurants.
The garden beds are in production for 8 months of the year, yielding over 700 pounds of salad greens, 65,000 edible flowers, 250 pounds of herbs and 100 pounds of butternut squash.
In the cooler fall and winter months, production moves indoors to a 150 square-foot heated greenhouse, 60 square-foot unheated outdoor greenhouse and an indoor light garden, yielding another 150 pounds of salad and microgreens, several thousand edible flowers and another 50 pounds of herbs.
Our restaurants also make use of the rooftop garden above XOCO, a 1000 square-foot rooftop space where  upward of 650 pounds of tomatoes, 125 pounds of chiles and 80 pounds of Chinese long beans and an abundance of specialty herbs are grown each season. It just doesn't get more local than that.
More than just an urban oasis that produces Frontera's "rooftop salsa," the gardens also gives our restaurant staff the chance to participate in the food production process.