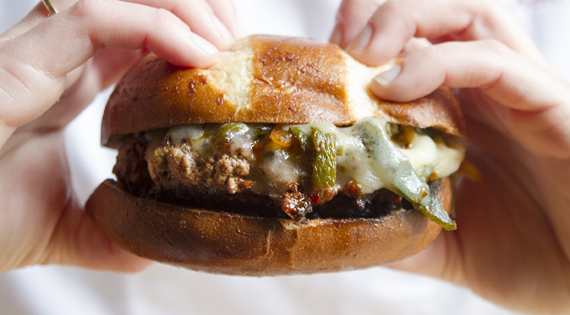 Ingredients
2

medium

fresh poblano chiles

8

ounces

fresh Mexican chorizo sausage,

removed from its casing if there is one

1

tablespoon

vegetable oil

1

medium

onion, sliced 1/4-inch thick

2

garlic cloves, finely chopped

1 1/2

pounds

ground chuck (chuck offers a beefy flavor and richness I like for special occasions when these burgers are appropriate; you can choose a leaner cut if that makes sense for you)

1 to 2

canned chipotle chiles en adobo,

finely minced, seeded if you wish

8

thick slices

Monterey Jack Cheese

4

hamburger buns, lightly toasted
Instructions
Roast the poblanos over an open flame or 4 inches below a broiler, turning regularly until blistered and blackened all over, about 5 minutes for an open flame, 10 minutes for the broiler. Place in a bowl, cover with a kitchen towel and let cool. Rub off the blackened skin and pull out the stems and seed pods. Cut into 1/4-inch strips.
Set a large (10-inch) skillet over medium.  Add the chorizo and cook, breaking up large chunks, until the chorizo is beginning to brown and is cooked through, about 10 minutes.  Scrape on to a plate lined with paper towels and let cool.  Return the skillet to medium heat, measure in the oil and add the onion. Cook, stirring frequently until it begins to brown, 7 or 8 minutes. Stir in the garlic and poblano and cook for 2 minutes. Taste and season with salt, usually about 1/2 teaspoon. Scrape the rajas into a bowl and cover to keep warm.
In a large bowl, combine the ground beef, the cooled chorizo, the chipotles and 3/4 teaspoon salt. Mix thoroughly but lightly (to keep from turning out an overly compact texture). Divide into 4 portions, lightly pressing them into patties the size of your buns.
Heat a gas grill to medium-high on one side, medium on the other; or light a charcoal fire and let it burn until the charcoal is covered with white ash (and still quite hot), then bank the coals to one side.
Lay the hamburger patties on the hottest side of the grill and cook until the grill grates have seared beautiful marks on one side, about 2 minutes if your grill is quite hot, then flip and cook until the hamburger is a little less done than you like (usually a couple of minutes longer for rare to medium rare). Move the burgers to the cooler side of the grill. Lay one piece of cheese on top of each burger, top with a portion of the warm rajas and then another piece of cheese. Close the lid and continue cooking until the cheese has melted, about 1 minute. Remove from the grill and place on a toasted bun. Serve immediately.