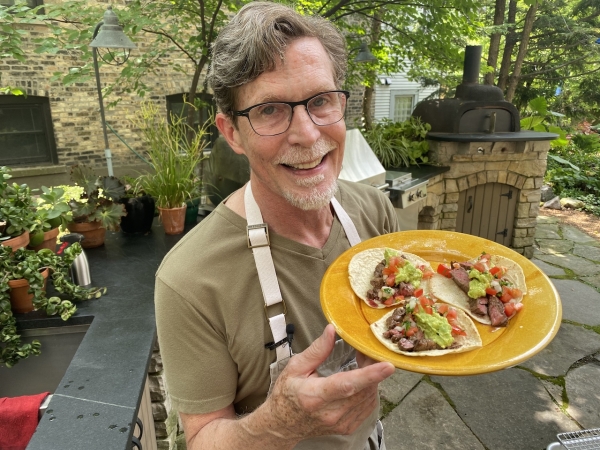 There is no way I could amass a collection of the most essential Mexican recipes without including grilled skirt steak tacos. They are simply my favorite—beefy, juicy slices of smoky meat on a warm tortilla, a little seasoned mashed avocado, a splash of salsa, a squeeze of lime, maybe some grilled knob onions on the side to provide the counterpoint of texture and flavor. The first thing to know about skirt steak is that there are two kinds, inner skirt and outer skirt. While inner might sound more protected, more tender, it's the reverse: the inner skirt steak is thicker, tougher and in most places less expensive. The butchers at the Mexican grocery near my house butterfly inner skirt steak and then run it through a tenderizing machine before they sell it. Outer skirt steak, on the other hand, is thinner, more tender and even beefier—no need for butterflying or tenderizing. Most Mexican cooks make simple marinades for the meat they grill and chop for tacos. Often, it's just salt. Some add fresh lime plus a little garlic, perhaps along with the beloved northern Mexican triumvirate of black pepper, oregano and cumin. And still others play the umami card, enhancing the meat with salsa inglesa (Worcestershire), soy or a little Knorr Suiza powdered bouillon. For this recipe, I've decided to go all the way. Because this dish is most famous from northern Mexico (but beloved everywhere), it welcomes flour as well as corn tortillas.
Servings:
12
good-size tacos, enough for 4
Ingredients
1

pound

beef skirt steak (preferably outer skirt), trimmed of surface fat as well as the thin white membrane called "silverskin"

4

tablespoons

lime juice (divided use)

2

tablespoons

Worcestershire

3

garlic

cloves, peeled and finely chopped or grated on a microplane grater

1/4

teaspoon

fresh ground cumin

½

teaspoon

fresh ground black pepper

1

teaspoon

Mexican oregano

2

tablespoon

vegetable or olive oil

Salt

2

large

avocados, cut in half, pitted, flesh scooped from the skin

A

generous cup

cup of Salsa Mexicana or Roasted Tomatillo Salsa, for serving (links below)

A

couple

of limes, cut into wedges, for serving

A

handful

of Grilled Knob Onions, for serving (optional but recommended)

A

dozen

or more warm corn or flour tortillas
Instructions
Salsa Options: Roasted Tomatillo Salsa or Salsa Mexicana
Marinate the meat.  Lay the skirt steak into a stainless or glass baking dish.  In a bowl, stir together 3 tablespoons of the lime juice, the Worcestershire, garlic, cumin, black pepper, oregano, oil and ½ teaspoon salt. Scrape onto the meat, spreading it to coat both sides.  Cover and refrigerate for an hour or so—any longer and the acid in the marinade will begin to leach the color from the meat.
Prepare the grill. About a half hour before cooking, heat a gas grill to medium-high or prepare a charcoal fire, letting the coals burn until they are covered with a gray ash and still quite hot.
The accompaniments. In a small bowl, mash the avocado with the remaining 1 tablespoon of lime juice.  Season highly with salt (you'll be using this as a condiment), usually about 1 teaspoon.  Scoop into a serving bowl.  Do the same with your chosen salsa and the lime wedges.  Grill the knob onions, if you've chosen to serve them.  Heat the tortillas; keep them well wrapped or covered to stay warm.
Grill the meat.  Smear most of the marinade off the meat, then lay it on the hottest part of the grill. Let sear without moving until there are dark grill marks underneath, then flip and sear the other side.  You'll probably want to move the meat to the coolest part of the grill to coast toward your perfect doneness:  For me, that's medium (even though I like a ribeye medium-rare) because that's when skirt steak is most tender but still juicy.  Most pieces of outer skirt steak will cook to medium in 3 to 4 minutes per side.  
Serve.  Cut the long pieces of skirt steak into 3-inch pieces, then turn each piece and cut each piece across the grain into ¼-inch strips.  (Cutting skirt steak with the grain yields unchewably tough pieces.)  Sprinkle the strips of skirt steak with salt (a good place for a nice finishing salt) and scoop into a warm serving dish.  Set on the table with the mashed avocado, salsa, limes and tortillas for everyone to make tacos.  Serve the knob onions on the side, if you have them. 
For the professional:  Because this marinade has enough acid to leach color from the meat in a couple of hours, it's not ideal to use for a service that goes on for 5 or more hours.  A better choice is to smear the meat with the Yucatecan Spice Marinade (page 000), which is much less acidic, and use a spray bottle of lime while the meat is on the grill.