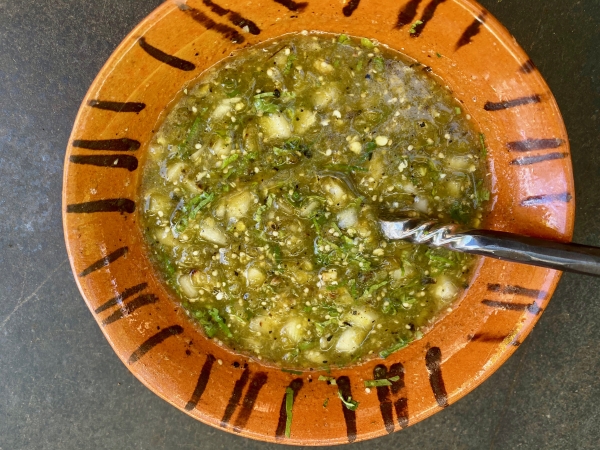 The reason I gravitate to a roasted tomatillo version when I'm cooking at home is this: Tomatillos are acidic and roasting adds welcome sweetness (think about the difference between boiled carrots and roasted ones). Plus, the bits of charred skin add a rustic gutsiness. Roasted garlic is sweet, too, and roasted chiles are way more mellow than raw ones. So, you can see that I lean toward a salsa verde that's mellow-rustic, with a sweet-tart balance. If that sounds good to you, follow my lead below. This is my current favorite balance of techniques and flavors. It is very similar to what I made on Season 8 of Mexico: One Plate at a Time.
Servings:
1
1/2 cups of salsa. If you're not roasting the garlic, use less.
Ingredients
12

ounces (6-8)

medium tomatillos, husked and rinsed

3 or 4

garlic cloves, unpeeled

Fresh

hot

green chiles (start with a large serrano or small jalapeño, but feel free to use any fresh chile), stemmed

Fresh

cilantro (start with 6 or 8 sprigs)

1/2

medium

white onion

Salt
Instructions
Roast ingredients: Though most people in Mexico roast ingredients for this salsa on a comal (griddle), I find it easiest to roast them under a broiler.  Spread the tomatillos, unpeeled garlic and chiles on a rimmed baking sheet and roast about 4 inches below a hot broiler (my toaster oven is perfect for this) until the tomatillos and chiles are blotchy brown on one side, about 6 minutes, then turn everything over and roast the other side.  The garlic should feel soft. 
Cool and blend: Cool until handleable, slip the peels off the garlic, then scrape everything (including any juices) into a blender or food processor and pulse until you have pureed it to your liking—I like the salsa best when it's smoothish, but still has some texture.  
Finish and season: Gather the cilantro into a tight bundle and thinly slice across it (leaves and stems) until you run out of leaves. Chop the onion into about ¼-inch pieces.  For the freshest flavor, rinse in a strainer under cold water to get rid of that unpleasant "oniony" flavor.  Shake off excess water and add to the salsa along with the cilantro.  If the salsa is too thick to spoon easily, stir in water a tablespoon at a time until the salsa seems right to you. Taste and season with salt, usually a scant teaspoon.  Because most ingredients are roasted, it's harder to add more of one or the other of them to the finished salsa—except, of course, for cilantro and onion.