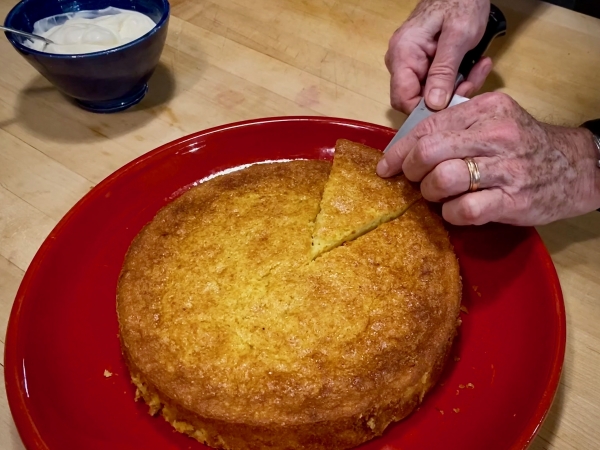 Because of its buttery richness, I always serve this warm from the oven or given a quick tour through the microwave or low oven. Warm is the way you can indulge in its moist tenderness most completely. Serve this simple golden cake with a sprinkling of powdered sugar, if you wish. I think it is best with a spoonful of Mexican crema, sour cream or crème fraiche. Or make it into a full-on dessert with a scoop of lime- or orange-zest ice cream, fresh corn ice cream, or simply vanilla. A drizzling of cajeta (goats milk caramel), if you have some on hand, brings out the natural caramel notes in the sweetened condensed milk.
Ingredients
3

cups

fresh corn kernels (you'll need about 4 large ears)

3

eggs, at room temperature

1

(14-ounce) can

sweetened condensed milk

1

cup (5 ounces)

all-purpose flour

1 1/2

teaspoons

baking powder

1/2

teaspoon

salt

1/2

teaspoon

ground cinnamon (preferably Mexican canela)

6

ounces (1 1/2 sticks)

butter, at room temperature
Instructions
Make the batter. Heat the oven to 350 degrees. In a blender or food processor, combine the corn, eggs and sweetened condensed milk. Process to a coarse puree—leave a little of the corn's texture, but no whole kernels.  In a small bowl, whisk together the flour, baking powder, salt and cinnamon.  In a stand mixer (fitted with the paddle attachment if available), beat the butter until light and fluffy.  Beat in the corn mixture in 3 additions, alternating with the flour mixture.  
Bake.  Oil the bottom and sides of a 9-inch round cake pan or an 8x8-inch square cake/brownie pan.  Line with parchment paper, oil the parchment, then dust everything with flour, inverting and tapping the pan over your sink or garbage can to remove any excess.  Scrape the batter into the pan, smooth the top and bake in the center of the oven for 50 to 60 minutes, until browned and no longer jiggly in the center.  (A toothpick inserted in the center will come out almost clean.) Cool for 10 minutes, then turn out onto a cooling rack.  Immediately invert onto a serving plate (the top of this cake is its prettiest part).