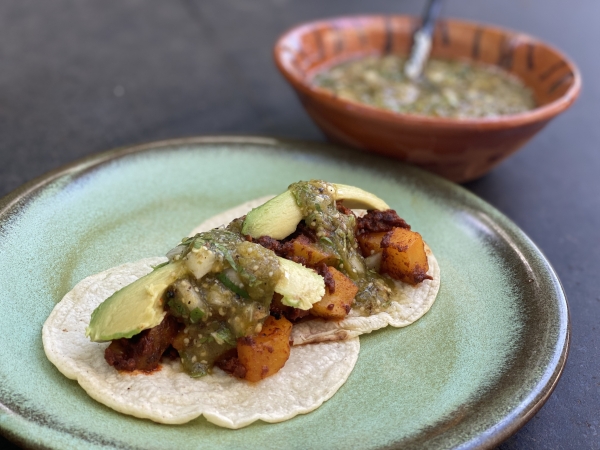 Yes, you've seen me include some version of this ubiquitous Mexican preparation in other books, but it deserves a place here for several reasons. First, it's just down-right delicious. Second, I usually have the ingredients on hand (doesn't everyone have a little chorizo in the freezer?). And third, you can make it in a flash. The trick is to brown everything well. The best versions of this I've ever tasted are from street vendors, where they have the potato-chorizo mixture browning and crisping on the side of the griddle, waiting for a lucky customer to get a scoop of it in a warm tortilla. I guess you could say that this is a chorizo-infused version of really good hash browns.
Ingredients
3

medium

(about 12 ounces) boiling potatoes (Yukon golds work well, but so do most of the ones I find at my farmers market)

Salt

12

ounces (1 1/2 cups packed)

Mexican chorizo sausage, casing removed

A

little

vegetable oil, bacon drippings or fresh-rendered lard if needed

1

medium

onion—white, yellow or red are all good—cut into ¼-inch slices

A

good splash

of malty (not hoppy) beer like Dos Equis or Modelo Negra (optional, but delicious)

12

warm

corn tortillas

Salsa Verde

for serving

A

ripe

avocado (optional, but very delicious), halved, pitted, flesh scooped from the skin and cut into ½-inch pieces
Instructions
Cook the potatoes. Peel the potatoes if you like, then cut them into ¼-inch pieces and scoop them into a microwave-safe bowl.  Splash on about 2 tablespoons water and sprinkle generously with salt.  Cover with a vented cover or plastic wrap with a few poked holes and microwave for 3 minutes at 100% power—they should be tender.  Immediately tip off the water (it'll be steamy hot!) and scoop out the potatoes onto paper towels.  Pat dry.  This is essential for good browning.
Brown the chorizo and onions.  Scoop the chorizo into a large (10-inch, preferably non-stick or seasoned cast iron) skillet set over medium heat.  Break it into smaller pieces with a spatula as the fat begins to render out.  (If little renders, add a little oil, drippings or lard—you'll need several tablespoons of fat for caramelizing the onion and crisping the potatoes.) Add the onions and cook, stirring regularly, until the chorizo is cooked through and the onions are golden, 4 to 5 minutes. Add the beer (if using), stirring and scraping up any sticky bits, until the liquid is all evaporated.  At this point you need a couple of tablespoons of visible fat in the pan; add more if necessary. 
Brown the potatoes and serve. Stir the potatoes into the mixture, coating them with the fat.  Cook, stirring every once in a while, until the potatoes are browned, 5 to 8 minutes longer.  Taste and season with salt if you think necessary.  Serve with warm tortillas, tomatillo salsa and avocado for making delicious tacos.