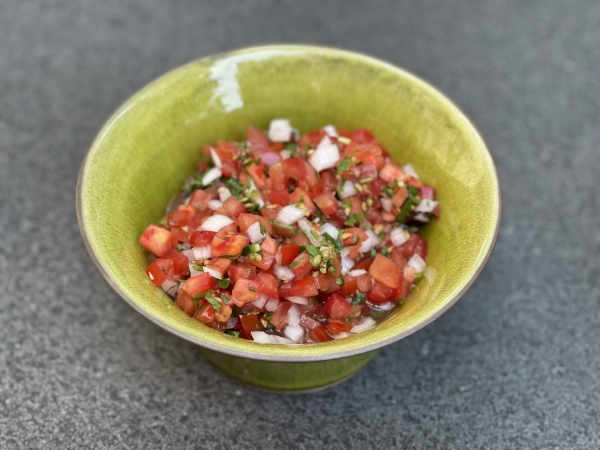 Though through the years I've written several recipes for this iconic, ubiquitous salsa, I'm doing it again—but with a twist.  I want you to ask yourself, What version of this salsa do I like?  You see, the ingredients are basically set in stone, but the proportions are not.  The tomatoes add soft sweetness, the onion offers a fresh crunch, and, of course, the cilantro and green chile add herbiness and spice.  This salsa is typically seasoned with a little lime and salt.  So, if you're in the mood for a salsa that's really spicy, you'll want to add more chile than your neighbor might.  I'm a cilantro freak, so I'll likely be putting in more than you.  If I'm weighing everything, I like 4 parts tomato to 1 part onion, but that might not be to your taste.  I know people who want more and other who want less.   You're getting the idea, I think.  I'm encouraging you to chop up the tomatoes, then add the remaining three ingredients a little at a time—tasting as you go—to determine what tastes really good to you.  Same goes for lime and salt.   So, for about 2 cups of salsa, start with these quantities—mixing, seasoning and tasting until everything tastes in perfect harmony to you.
Ingredients
12

ounces (2 medium-large, 4 medium plum)

ripe tomatoes—red-ripe through to the core is important, though they shouldn't be so ripe that they're completely soft

About 1/2

medium

white onion

Fresh hot

green chile (start with 1 serrano or a small jalapeño, though feel free to use any hot fresh chile), stemmed

Cilantro

(start with 6 or 8 sprigs)

Fresh lime juice

(start with a couple tablespoons)

Salt

(for my taste it will take a scant teaspoon)
Instructions
Chop the basic ingredients. Core and chop the tomatoes—fine chopping (say, about ¼-inch pieces) means more harmonious flavor.  Scoop into a bowl. Chop the onion as fine as the tomatoes.  For the freshest flavor, rinse in a strainer under cold water to get rid of that unpleasant "oniony" flavor.  Shake off excess water and add to the tomato.  Split the chile in half lengthwise, cut out the seed pod and white veins if you want it less spicy, then chop as finely as you can—lots of rocking and chopping back and forth with your knife will do the trick.  Gather the cilantro together into a tight bundle and thinly slice across it (leaves and stems) until you run out of leaves.  Scrape chile and cilantro in with the tomato and mix together.  
Season. Add a preliminary bit of lime and salt (usually a scant teaspoon) to the mixture, stir and taste.  Continue seasoning with lime and salt—you can add more onion, chile and cilantro, too—until you get the salsa where you want it. 
This salsa is most flavorful about an hour after it's made and served at room temperature.  That said, it can be made several hours in advance and refrigerated.  Let return to room temperature before serving.  
Playing around:  I've made this salsa replacing about a third of the tomatoes with tomatillos.  The color is beautiful, but the flavor and texture changes substantially (and you may not want to add as much lime).  Replacing some of the onion with diced jícama adds really fun crunch.  Since this salsa is made with ingredients that are beloved all over the world, simply changing the herb will tip the flavor in another direction.  Thai basil (and shallots instead of onion) shows a Thai character, while Italian basil (and lemon instead of lime) will remind you of the Mediterranean.  
Salsa xnipec:  In the Yucatan, they make this salsa with red onion and habanero chile (I'll advise you to start with half a chile and work up from there).  There they use sour orange juice, which is about as sour as lemon, but with overtones of orange; to achieve a similar flavor, you can add a splash of orange to the lime.  Also, I've seen versions made with some finely chopped radish, which adds a unique crunch that's beautiful. 
For the professional: Here's a place to show off your knife work.  Once everything is mixed, the timer starts:  The flavor improves for a couple of hours as everything mingles, but after 6 or 8 hours, the onions take over and the textures go south.  Except for the onions, the mise en place can be done up to a day ahead and combined before service.