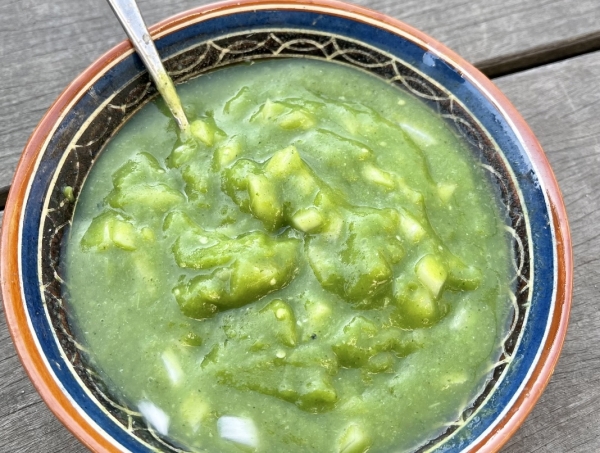 This is a salsa that doesn't rely on roasting tomatillos to increase sweetness and complexity. Nor does it use those tomatillos raw, preserving their bright (but simple) flavor and relishy texture. Here they're cooked with moisture (I suggest you steam them in the microwave, but you could simmer them in water as many traditional cooks do in Mexico), cooled and blended with a lot of herbs and green chile into a beautifully green, luscious consistency. This salsa tastes so lively and fresh, it practically jumps from the dish. NOTE: I suggest you make this salsa with leafy herbs that are usually used in abundance—ones like cilantro, parsley, sorrel and arugula—though parsley by itself can be rather strong. To tell the truth, a combination of herbs always seems to taste best to me. You can use stronger herbs like basil, dill, sage and mint, though I'd either use less than what's called for in the recipe or combine them with one or more of the herbs I listed first. Herbs that are typically used in small quantities, like thyme, tarragon, oregano and marjoram, may taste out of place here, unless, of course, just a little bit is blended with other, leafier herbs.
Ingredients
8

ounces (3 or 4 medium)

tomatillos, husked, rinsed and cut in half

½

gently packed cup (about 1/2 ounce)

fresh herbs (see NOTE above)

Hot green chile to taste (roughly 1 to 2 serranos or a small jalapeño), stemmed and roughly chopped

About ¼

cup

finely chopped white onion (1 ounce)

Salt
Instructions
Place the tomatillos in a microwave-safe bowl, splash on a tablespoon of water, cover (if using plastic, poke a couple of holes) and microwave at 100% for 3 1/2 minutes, until their bright green has barely faded to olive.  Uncover and let come to room temperature.  In a blender jar, combine the cool tomatillos with the herbs and green chile.  Blend to a smooth puree.  Scoop into a serving bowl and thin with enough water to give it an easily spoonable consistency, usually less than ¼ cup.  Rinse the onion under cold water, shake off the excess, then stir it into the salsa.  Taste and season with salt, usually about ½ teaspoon.