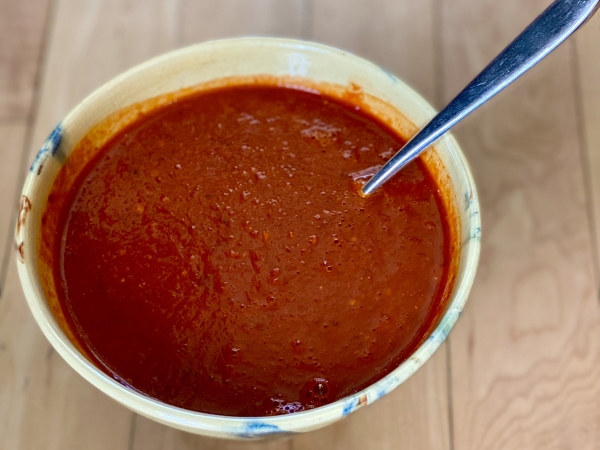 This unflinching salsa is the essence of dried arbol chiles, the punch of their natural earthiness buffered with the mellowness of roasted garlic and simply jazzed up with a splash of vinegar and some salt. A small spoonful of this brilliance on tacos of grilled steak or fried fish makes them legendary, though some may find the spiciness pushes their limits. To buffer that a bit, I've included much-less-spicy (but very bright-tasting) guajillo chiles in the mix. While this salsa can be made with an equivalent weight of pequín, chiltepín, cascabel, costeño, mora or any of the myriad small dried chiles you find across Mexico (each has a different flavor), the one I'm singling out in the variation below is the morita/chipotle colorado chile, because everyone loves it smoky, sweet spice.
Ingredients
1/2

ounce

(about 25 good-size) dried árbol chiles, stemmed but not seeded

2

(about 1/2 ounce)

dried guajillo chiles, stemmed, seeded and torn into flat pieces

6

garlic cloves, unpeeled

1

tablespoon

vinegar (apple cider vinegar is common in Mexico)

salt
Instructions
In a large skillet set over medium heat, toast the árbol chiles, stirring them slowly and regularly until they release their aroma and darken in spots, usually about 1 minute. Scoop into a bowl. Toast the guajillo chiles, pressing them flat against the hot surface until they lighten in color on the inside and release their aroma; flip and toast the other side.  Scoop in with the árbol chiles, cover with hot tap water and weight with a plate to keep them submerged. In the same skillet (still over medium heat), roast the garlic, turning the cloves from time to time, until they have softened and are blotchy-black in spots, about 15 minutes; cool until handleable, then peel off their paper skins.  Scoop the garlic into a blender jar.  Use tongs or a slotted spoon to transfer the chiles to the blender, then add 1 cup of their soaking liquid.  Blend to a coarse puree—nearly smooth, but with a little texture left.  Scrape into a serving dish and stir in the vinegar.  Taste and season highly with salt, usually a generous 1/2 teaspoon.  
Morita salsa:  You can make a really delicious, sweet-smoky version of this salsa by replacing the árbol chiles with ½ ounce (4 medium) dried morita/chipotle colorado chiles.  Treat them as you would árbols, though they will require a little longer to soften in the hot water than the 15 minutes it takes to roast the garlic. I like to add a pinch of sugar to this bold salsa to bring out the natural fruitiness of the chiles.