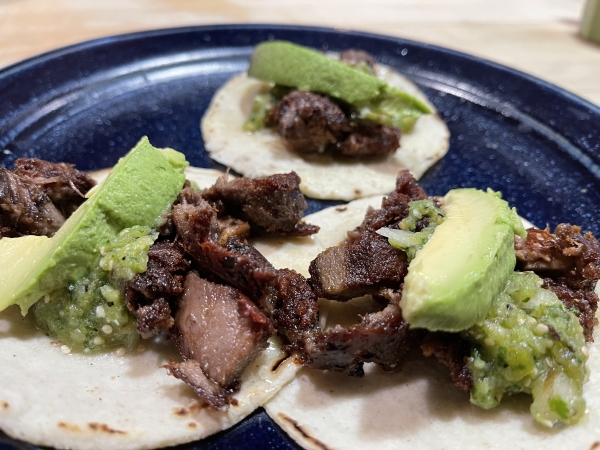 It's remarkable to me how many people have never eaten beef tongue. Perhaps they feel squeamish with offal in general. But beef tongue is different, richly meaty in texture without a hint of the gaminess associated with most "innards." When I take those folks out for tacos in Mexico, I always order the tongue for them to taste, which very often turns out to be their favorite, especially if the meat has been beautifully browned and the tomatillo salsa is bright and picante. That's what I'm offering you here. This version of the tomatillo salsa blends both roasted and raw tomatillo—for a fun balance of roasty-sweet and crunchy-fresh—and is fully charged with habanero. And the tongue: you can cook and clean it yourself (you'll have to buy it from a Mexican grocery store or order one from a butcher) or buy already cooked-and-cleaned smoked tongue from a meat market or deli that carries it. Obviously, the latter is the easiest.
Ingredients
12

ounces

(6 medium) tomatillos, husked and rinsed

3 or 4

garlic cloves, unpeeled

Fresh habanero chile (between ½ and 1 is where I'd start)

About 8 sprigs fresh cilantro, roughly chopped

1/2

small

onion, cut into ¼-inch pieces

salt

1 1/4

pounds

cleaned, smoked or cooked beef tongue (see below), cut into rough cubes a little less than ½ inch (about 3 cups)

12

warm corn tortillas

1

large

avocado, cut around the pit, halves twisted apart, pitted, flesh scooped from the skin and cut into 12 slices
Instructions
Make the salsa. Spread half of the tomatillos onto a rimmed baking sheet along with the garlic and habanero.  Roast close up under a hot broiler until the tomatillos are splotchy black in places, about 6 minutes.  Flip everything over and roast the other side.  Watch the garlic and chile:  They may be ready before the tomatillos. Cool, peel the garlic, then scoop everything into a blender or food processor.  Quarter the remaining tomatillos and add them along with the cilantro. Blend to a coarse puree, then scrape into a small dish.  Rinse the onion under cold water, shake off the excess and add to the salsa.  Taste and season with salt, usually a scant teaspoon. 
Brown the tongue. In a heavy very large (12-inch) skillet (preferably cast iron), heat the lard or oil over medium-high.  When it is hot, add the tongue and spread into a single layer.  Cook without disturbing until the tongue is golden underneath, 2 or 3 minutes, then use a spatula to carefully turn everything over and brown the other side. Sprinkle generously with salt. 
Serve. Top warm tortillas with browned tongue, spoon on salsa and top with a slice of avocado.  
TO COOK AND CLEAN BEEF TONGUE: slowly cook your beef tongue (about 2 ½ pounds is an average weight) until it is tender in water to barely cover with a sliced onion, a few roughly chopped garlic cloves, 2 generous teaspoons of salt and herbs (thyme, marjoram and bay are classic in Mexico):  about 8 hours in a slow cooker, 2 to 3 hours of gentle simmering in a partially closed pot on the stove, about 90 minutes in a pressure cooker like an Instant Pot.  If possible, let cool in the liquid.  When handleable (but still warm), strip off the tongue's skin.  Pull out and discard any boney cartilage from the butt end, and slice off the last ¾ inch or so of the section where it was. Trim off any fat along the bottom of the tongue.  You're ready to cut up the tongue for browning.