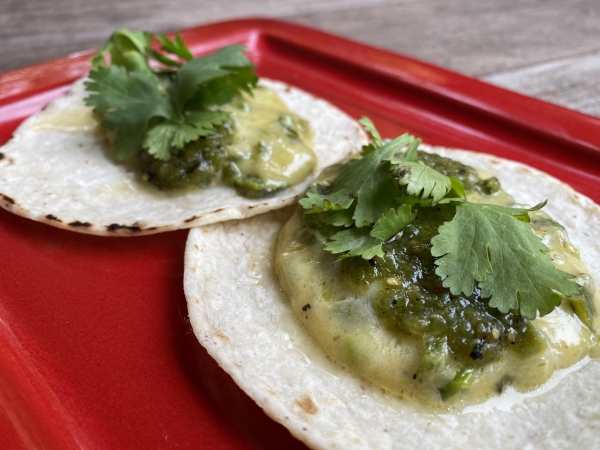 Queso fundido, that mouthwatering melted cheese often topped with roasted poblanos and served in earthenware dishes in restaurants that specialize in the rustic northern Mexican cuisine, is always served with tortillas for making tacos. Scooping up a bit of the melty, stringy Chihuahua cheese, wrapping it in a warm tortilla, perhaps with a splash of salsa, is incredibly satisfying. But it's a little impractical for bigger groups. Queso fundido is melted cheese, after all, not a creamy fondue, so in the short time it takes to cool off, it firms up and loses its attractiveness. Near our apartment in Mexico City is a taqueria that has figured out how best to serve the classic melted cheese by turning it into individual tacos, avoiding the typical queso fundido pitfalls. But it's not just melted cheese in the tortilla (that would run out). It's a lot of chopped, roasted poblano held lusciously together with the cheese. It echoes the flavor of cheesy chiles rellenos, which is what they call them, tacos de chile relleno.
Ingredients
3

large

(1 pound) fresh poblano chiles

12

ounces

(3 cups) shredded Mexican melting cheese (such a Chihuahua, quesadilla or asadero) or Monterey Jack, brick or mild cheddar

10-12

warm corn tortillas

About ½ to 2/3

cup

salsa (I like Roasted Tomatillo Salsa, or Roasted Tomato)
Instructions
Roast the poblanos.  Roast the poblanos over an open flame or close under a hot broiler, turning them regularly until blistered and blackened all over, about 5 minutes for an open flame, 10 minutes for the broiler.  Place in a bowl, cover with a kitchen towel and cool until handleable.  Rub the blackened skin off the chiles and pull out the stems and seed pods. Rinse the chiles briefly to remove bits of skin and seeds.  Cut into small pieces (about ¼ inch).  
Finish the dish.  When you're ready to serve and the guests are gathered, heat the poblano pieces in a large (10-inch) skillet over medium heat, stirring regularly until steaming.  Add the cheese a handful at a time, stirring until most is melted before adding the next handful.  When all the cheese is melted, taste and season with salt and immediately start scooping your beautiful concoction into warm tortillas and passing them out.  Serve with salsa. Roasted Tomatillo Salsa   Roasted Tomato Salsa