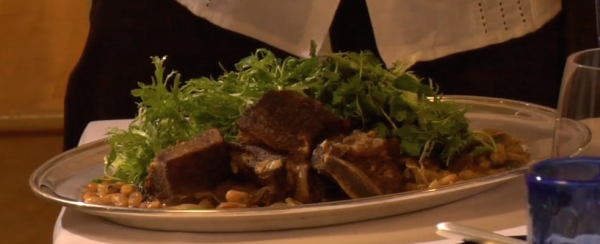 Recipe from Season 6, Mexico—One Plate at a Time
Ingredients
8

arbol chiles

2

tablespoons

olive or vegetable oil

4

pounds (8 good-size pieces)

bone in beef short ribs

Salt and freshly ground black pepper,

1

large

white onion, cut into 1/2-inch pieces

8

ounces

full flavored mushrooms (think shiitakes here), stemmed and quartered

2

cups

full-flavored beer (I like Negra Modelo)

2

cups

beef broth

1

head garlic, cut in half across the center

3

sprigs

fresh thyme

1

14.5-ounce

can diced tomatoes in juice (preferably fire-roasted)

4

cups

white beans (homemade or canned - you'll need three 15-ounce cans), drained
Instructions
Turn on the oven to 325 degrees. Break the stems off the chiles, then roll them between your fingers to loosen the seeds. Break the chiles in half and shake out all the seeds that come out easily. Set a large (7- to 8-quart) Dutch oven over medium-high heat. When the pan is hot, pour in the oil. Add the chiles and stir for 10 to 15 seconds, until they are noticeably darker and aromatic. Remove to a small plate, draining as much oil as possible back into the pan. Generously sprinkle the meat on all sides with salt and pepper. Lay the short ribs in the pan and brown them, turning frequently, until they're a rich golden brown on all sides, about 4 minutes total. Remove to a rimmed baking sheet.
Add the onion to the pan and cook, stirring regularly, until golden, about 7 minutes, then stir in the mushrooms and cook another couple of minutes. Add the beer, broth, garlic, thyme, tomatoes, beans, toasted chiles, 1 1/2 teaspoons salt and a generous 1/2 teaspoon black pepper.
Return the short ribs (and any juices that have collected around them) to the pan, nestling them into the liquid. Set the lid in place and bake for about 2 1/2 hours, until the short ribs are fork tender.
Carefully remove the short ribs to a deep serving platter. Discard the garlic and thyme sprigs from the braising liquid. Using a slotted spoon, spoon the beans around the short ribs. Taste the sauce mixture and season with additional salt if you think necessary. Then ladle the sauce mixture over the ribs and beans. You're ready to serve.