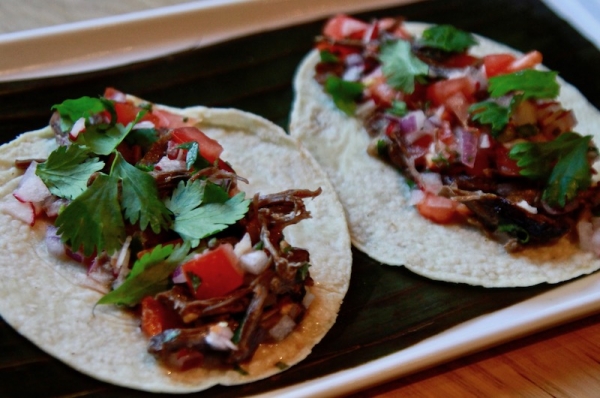 Servings:
4
cups of filling, enough for 16 to 18 tacos
Ingredients
1

pound

beef skirt steak

2

tablespoons

vegetable oil

1

small (4-ounce)

white onion, roughly chopped

2

garlic cloves, peeled and roughly chopped

Salt

A 12-inch

piece

banana leaf,

defrosted if frozen (optional)

16 to 18

corn tortillas

For the Xnipec Salsa

1/2

small (2-ounce)

red onion, minced

5

tablespoons

fresh sour orange juice OR 3 tablespoons fresh lime juice plus 2 tablespoons fresh orange juice

1

medium (8-ounce)

red ripe tomato, chopped into 1/4-inch pieces

3

radishes, chopped into small pieces

1/2 to 1

fresh habanero chile (depending on your preference for heat), seed pod removed, flesh chopped finely

6

large

sprigs cilantro, chopped (stems and all)
Instructions
Although this recipe is written for the Instant Pot-style pressure cooker, it can be made by setting up a collapsible steamer in a 4-quart pot. Add the aromatics to 1 inch of water underneath the steamer and steam the meat for an hour or so, until tender. Check the water often; dribble in more if it gets low.
1. The shredded beef. Dry the meat on paper towels and generously season with salt. In a medium-size (8- to 9-inch) heavy skillet set over medium, heat the oil. When very hot, add the meat and brown it thoroughly on all sides, about 10 minutes.
Set up the Instant Pot with about a half inch of water in the bottom and set the steamer rack in place. Add the onion, garlic and 1 teaspoon salt. Loosely wrap the browned meat in the banana leaf (if you have it), place on the steamer rack, secure the lid and set to pressure cook for a 20 minute cycle. Release the steam from the Instant Pot, remove the meat and cool until handleable. Unwrap if shrouded in banana leaf, then use forks or fingers to shred into thin strands. You will have 2 1/2 to 3 cups of meat.
2. Making the Xnipec. Scoop the red onion into a strainer, rinse under cold water, then shake off the excess. Transfer to a large bowl along with the tomatoes, radishes, habanero and cilantro. Add the citrus juice and stir to combine.
3. Finishing the filling. Stir the beef into the xnipec salsa mixture. Taste and season with salt, usually a scant teaspoon.
4. Serving the dzik. Scoop filling on warm tortillas to make soft tacos. If you'd like, garnish with whole leaves of cilantro.