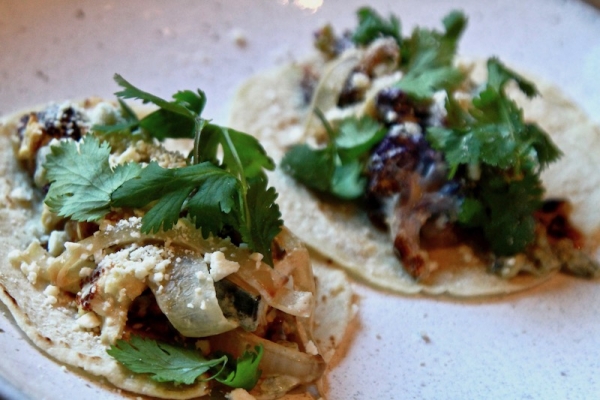 Ingredients
1

small

head cauliflower, core cut out, the rest cut into small florets (a scant 3 cups)

Olive oil

Salt

2

medium

fresh poblano chiles

1

large (8-ounce)

onion, sliced 1/4-inch thick

1

cup

Mexican crema

, crème fraiche or heavy cream, plus more if needed

10 to 12

warm

corn tortillas

A few

tablespoons

freshly grated Mexican queso añejo

or other garnishing cheese such as Parmesan

A

handful

cilantro leaves, for garnish
Instructions
Heat the oven to 375 degrees. In a large bowl, toss the cauliflower florets with olive oil and season with salt. Scoop cauliflower florets onto a rimmed baking sheet, slide into the oven and roast until tender and browned, about 15 minutes.
Meanwhile, roast the poblanos directly over a gas flame or close under a preheated broiler, turning regularly until blistered and blackened all over, about 5 minutes over an open flame, 10 minutes under a broiler. Collect the chiles in a bowl, cover with a kitchen towel and cool until handleable. Rub off the charred skin, pull out the stems and seed pods and briefly rinse under cool water to remove bits of skin and seeds. Cut roasted chiles into small pieces.
Film a large (10-inch) sauté pan or skillet with oil and set over medium. Add the onion and cook, stirring regularly until richly browned, about 7 minutes. Stir in the poblano pieces and crema (or one of its stand-ins), then raise the heat to high.
When the mixture comes to a boil, stir in the cauliflower and let reduce quickly until thick enough to coat everything. Season with salt, usually about ½ teaspoon.
Scoop the mixture into warm corn tortillas and garnish with queso añejo and cilantro leaves.