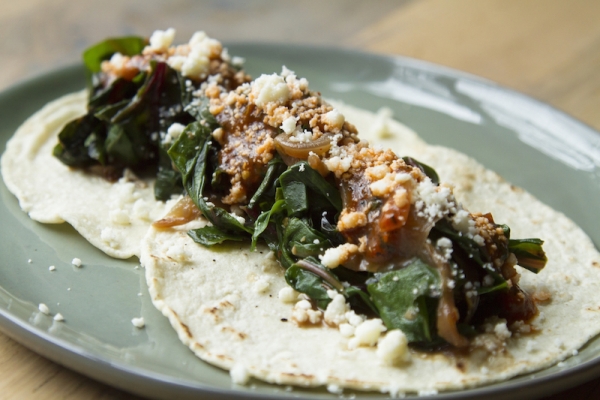 Ingredients
12

ounce

bunch of Swiss chard (or collard, mustard or beet greens), thick lower stems cut off OR 10 ounces of cleaned spinach, lamb's quarters or amaranth greens (about 6 loosely packed cups)

1 1/2

tablespoons

tablespoons vegetable oil, olive oil, fresh rendered lard or bacon drippings

1

large

white or red onion, sliced ¼ inch thick

3

garlic cloves, peeled and finely chopped or crushed through a garlic press

About 1

teaspoon

chile flakes

1/2

cup

chicken broth, vegetable broth or water

Salt

12

warm

corn tortillas

About 3/4

cup

Chipotle Salsa

1

cup (4 ounces)

crumbled Mexican queso fresco or other fresh cheese such as feta or goat cheese

for serving
Instructions
Cut the chard crosswise in ½-inch slices (small spinach, lamb's quarters and amaranth leaves can be left whole). In a very large (12-inch) skillet, heat the oil (or its stand-in) over medium-high. Add the onion and cook, stirring frequently, until browned but still crunchy, about 4 to 5 minutes. Add the garlic and chile flakes, stir for a few seconds until aromatic, then add the broth or water, ½ teaspoon salt and the greens. Reduce the heat to medium-low, cover the pan (if you don't have a lid, a cookie sheet works well) and cook until the greens are almost tender, anywhere from 2 minutes for tender spinach and amaranth greens to 7 or 8 minutes for thick collard greens—Swiss chard needs about 5 minutes.
Uncover the pan, raise the temperature to medium-high and cook, stirring continually, until the mixture is nearly dry. Taste and season with additional salt if you think necessary.
Serve with warm tortillas, salsa and crumbled cheese for making soft tacos.