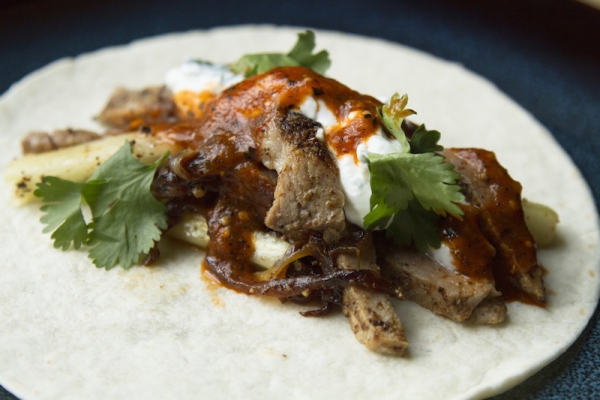 Ingredients
1 1/2- to 2-pound

pound

boneless pork shoulder roast

2

tablespoons

salt

1

tablesoon

EACH ground coriander, ground cinnamon (preferably Mexican canela) and freshly ground black pepper

1 1/2

teaspoons

ground cumin

1/2

large

seedless cucumber, peeled and cut into batons

2 to 3

small

unpeeled garlic cloves

1

medium

white onion, thinly sliced

1

cup

Greek yogurt

Juice

of 1/2 lime (about 2 tablespoons)

1/4

cup

cilantro, chopped

12

flour tortillas
Instructions
Using a very sharp knife, slice the pork shoulder into 1/4-inch thick slabs. Place them on a large platter or baking sheet in a single layer.
In a small bowl, mix the salt, coriander, cinnamon, pepper and cumin. Sprinkle some of the spice mixture over all sides of the pork. (You'll have extra; store the spice mixture in a jar.) Let stand at room temperature about 30 minutes or covered in plastic in the refrigerator for a few hours.
Heat a large (10-inch) nonstick skillet over medium high. Add the onions and cook, stirring regularly until golden, about 8 minutes. Remove pan from heat. Heat a small (7- to 8-inch) skillet over medium heat and roast the unpeeled garlic for 12-15 minutes. Peel and mince the garlic.
In a small bowl, combine the yogurt, roasted garlic, lime juice and cilantro. Taste, adding salt if necessary. Add cucumber into skillet with onions.
Heat a grill pan or one side of a gas grill to medium or light a charcoal fire and let it burn until the coals are covered with ash and still quite hot. Spray or brush a light coating of oil on each piece of pork.
Working in batches if necessary, add pork to the grill pan or grill in a single uncrowded layer and cook until golden brown, about 4 minutes each side.
Remove the pork to a cutting board, slice against the grain into 1/4-inch pieces and return to the skillet with the onions and cucumber. Toss to combine and serve in warm tortillas with cucumber sauce and salsa.