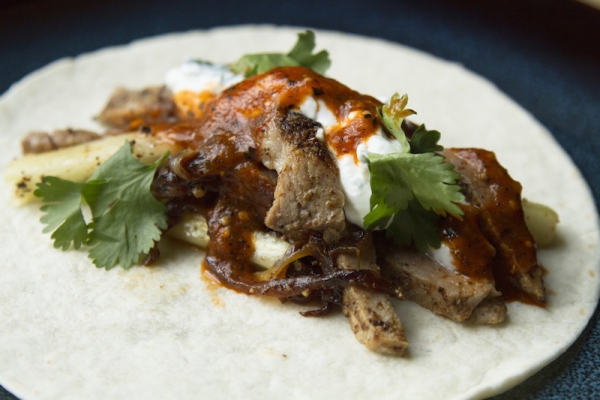 Tacos árabes were the original tacos made in Puebla by Middle Eastern immigrants, the meat for these delicious mouthfuls carved from shawarma-style vertical spits. That was before folks morphed the idea into the now-ubiquitous, now-crazy-popular tacos al pastor. Originally introduced by Iraqis and made with lamb, tacos árabes fairly quickly morphed into a more economical pork preparation seasoned with Middle Eastern spices and served—as they still are today—on thick flour tortillas (pan árabe, a version of pita) with a labneh-like jocoque sauce and chipotle salsa. This version of the dish you can still find in Puebla and Mexico City is based on the one we do at Frontera Grill.
Ingredients
1 1/2- to 2-pound

pound

boneless pork shoulder roast

2

tablespoons

salt

1

tablesoon

EACH ground coriander, ground cinnamon (preferably Mexican canela) and freshly ground black pepper

1 1/2

teaspoons

ground cumin

2 to 3

small

unpeeled garlic cloves

1

cup

Greek yogurt

Juice

of 1/2 lime (about 2 tablespoons)

1/4

cup

cilantro, chopped

2

tablespoons

vegetable oil, plus more for the meat

1

medium

white onion, thinly sliced

1/2

large

seedless cucumber, peeled and cut into batons

12

flour tortillas

3/4

cup

Smoky Chipotle Salsa
Instructions
Using a very sharp knife, slice the pork shoulder 1/4 inch thick.  Lay out the slices on a rimmed baking sheet.
In a small bowl, mix together the salt, coriander, cinnamon, pepper and cumin.  Sprinkle the pork generously on both sides with the spice mixture. (You'll have extra; store it in a jar at room temperature). Cover and let stand at room temperature for about 30 minutes or in the refrigerator for up to 24 hours.
Heat a large (10-inch) skillet over medium.  Lay in the garlic and roast, turning occasionally, until blotchy black in spots and soft, about 15 minutes.  Cool, peel, finely chop and mix together with the yogurt, lime and cilantro.
Return the skillet to medium-high heat, add the 2 tablespoons of oil and, when hot, scoop in the onion.  Stir regularly until rightly browned, about 7 minutes.  Add the cucumbers, sprinkle with salt and toss everything together over the heat for 30 seconds or so.  Set aside off the heat.
Heat a grill pan or gas grill to medium or light a charcoal fire and let it burn until the coals are covered with ash and still quite hot.  Spray or brush a light coating of oil over both sides of the pork slices.
Working in batches if necessary, lay the pork on the grill pan or grill in a single layer and cook until richly browned, about 4 minutes per side.  Remove the pork to a cutting board and slice across the grain into ¼-inch pieces.
Reheat the cucumber mixture, add the pork and toss to combine.  Serve with the warm tortillas, yogurt sauce and salsa.