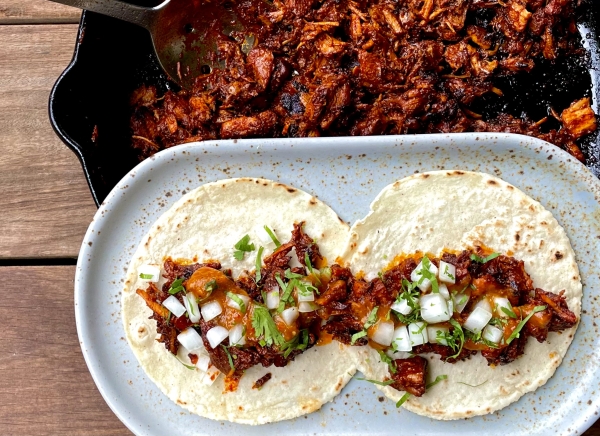 Even though chilorio was a once-little-known regional specialty from the northwestern state of Sinaloa, for the last several years, I've found pouches and cans of the stuff at the grocery store near my Mexico City apartment. Traditional chilorio—the stuff you find in the markets around Culiacan—is drier than the canned stuff, which more resembles American pulled pork. Market vendors shredded cooked pork and cooked it down in pork fat with red chile, salt and a little vinegar as a way to preserve it. Truthfully, that's my favorite. The flavors are a little more concentrated and exciting. So that's my approach here. The orange juice, by the way, while not very traditional, comes from a Sinaloan recipe I came across four decades ago. I love the way it underscores the natural sweetness of the pork. As is common in states that border the U.S., people enjoy these tacos with corn or flour tortillas.
Ingredients
1 1/2

pounds

boneless pork shoulder (usually sold as a pork shoulder roast, though you may find it called Boston butt or pork for stew if it's already cut up), trimmed of about half the noticeable fat, cut into 1-inch cubes

1

cup

fresh orange juice

4

medium (2 ounces total)

dried ancho chiles, stemmed, seeded and torn into large pieces

4

garlic cloves

garlic cloves, peeled and roughly chopped

1

teaspoon

oregano, preferably Mexican oregano

1/2

teaspoon

black pepper, preferably freshly ground

1/4

teaspoon

cumin, preferably freshly ground

2

tablespoons

vinegar (cider vinegar is common in Mexico)

Salt

2

tablespoons

rich-tasting lard or vegetable oil

12

warm corn or flour tortillas

About ¾

cup

salsa (a bold one like Arbol Tomatillo Salsa is good here)

About ¾

cup

chopped white onion and cilantro
Instructions
Make the seasoning.  In a blender, combine the orange juice, ancho chile, garlic, oregano, black pepper, cumin, vinegar and 1½ teaspoons salt. Blend until smooth. 
Cook the pork.  Using a pressure cooker (like an Instant Pot): Pour the seasoning mixture through a medium-mesh strainer into the cooker, stir in the pork, lock the lid in place and cook on high for 30 minutes; let pressure naturally subside for 15 minutes, then release.  In a slow cooker:  Spread the pork pieces over the bottom of a 6-quart slow cooker, then pour the chile mixture through a medium-mesh sieve over the meat; cover and cook on high for 4 hours, until the meat is fall-apart tender. On the stove top: Strain the seasoning through a medium-mesh sieve into a 4-quart saucepan, add ½ cup water, stir in the pork, partially cover and cook over medium to medium-low (there should just be a gentle simmer) until the meat is completely tender, about 1½ hours; add more water if the meat starts peeking out.  Let cool in the liquid if time allows.  
Finish the chilorio. Remove meat from the liquid. Use a fork or fingers to break the pork into coarse shreds. In a very large (12-inch) skillet over medium-high, heat the lard or oil.  When hot, add the pork in a single layer.  Cook until the meat is brown, stirring occasionally, 3 or 4 minutes. Add ½ cup of the cooking liquid (you may want to spoon off excess fat that has risen to the top) and cook, stirring regularly, until reduced nearly to a glaze.  Taste and season with salt, usually about a generous ½ teaspoon.  Serve with warm tortillas, salsa and the onion-cilantro mixture.  
Note:  if you end up with more than ½ cup of braising liquid, boil it over high heat until reduced to ½ cup.