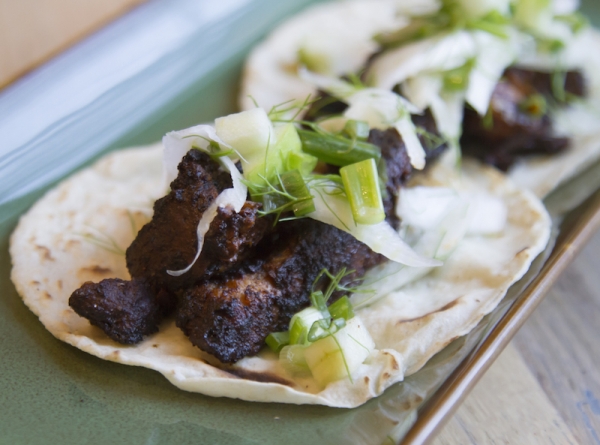 Ingredients
For the Red Chile Adobo

1/2

cup

good-quality ancho chile powder (the amount you'll get from a typical 2-ounce spice jar)

8

peeled garlic cloves

1/2

teaspoon

ground cinnamon, preferably Mexican canela

1/4

teaspoon

ground black pepper

1/8

teaspoon

ground cumin

3

tablespoons

apple cider vinegar

Salt

For the Apple-Fennel Slaw

1

medium

fennel bulb, stalks and fronds cut off, sliced into strips about 1/2-inch thick

1/2

medium

apple (a crisp-texture one like Granny Smith works good here), peeled, cored and cut into ¼-inch pieces

Salt

1

tablespoon

lime juice

For the ribs

2 to 2 1/2

pounds

country ribs

1

tablespoon

vegetable oil
Instructions
Scoop the powdered ancho chile into a blender or small food processor. Bring 1 ¼ cups water to a boil, pour over the chile, loosely cover the blender or secure the top of the processor and pulse to blend thoroughly. In a small microwave-safe bowl, collect the garlic, cover with water and microwave at 100% for 1 minute. Drain and add to the blender or processor, along with the spices, oregano, vinegar and 1 ½ teaspoons salt. Process until smooth.
Place the ribs in a single layer in the slow cooker and spoon in about half of the adobo. Set the slow cooker to high, cover and cook for four hours. In a medium-size bowl, add the sliced fennel, diced apples and lime juice. Season with salt, usually about 1/2 teaspoon.   
After four hours, remove ribs from slow cooker and pull the meat from the bone. Set a large (10-inch) skillet over medium heat and add the oil. Add the rib pieces and spoon in some of the leftover juices from the slow cooker, cooking until the pork sears, about 2-3 minutes.
Scoop the rib pieces into a warm corn tortilla and garnish with the slaw.