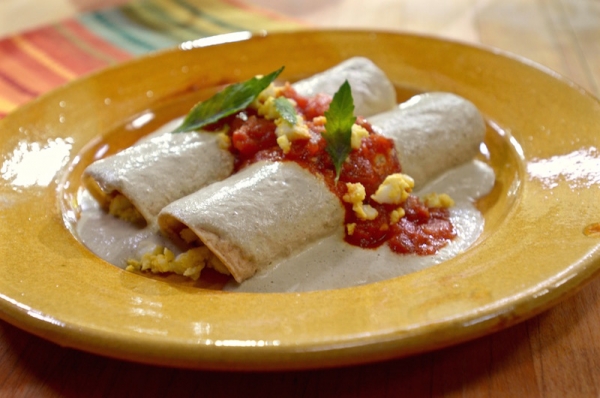 Ingredients
For the Epazote Broth

3

cups

water

4

large sprigs

epazote

2

tablespoons

white onion, roughly chopped

2

teaspoons

salt

For the Papadzules

2

cups

raw pumpkinseeds

8

eggs, hardboiled and chopped

12

warm

corn tortillas

For the Tomate Frito (Makes About Two Cups)

1 1/2

pounds (6 medium or 9 to 12 plum)

ripe tomatoes

1 1/2

tablespoons

rich-tasting lard or olive oil

1

small

white onion, diced

Salt, about 1/2 teaspoon
Instructions
Make the Tomate Frito Roast the tomatoes using the the griddle method or the broiler method. For the griddle, line a griddle or heavy skillet with aluminum foil and heat over medium. Lay the tomatoes on the foil and roast, turning several times, until blistered, blackened and softened, about 10 minutes. (Don't worry if some of the skin sticks to the foil.) For the broiler method, lay the tomatoes on a baking sheet and place about 4 inches below a very hot broiler. Roast until blistered and blackened on one side, about 6 minutes; flip the tomatoes and roast the other side.
Cool, then peel, collecting any juices with the tomatoes. Coarsely puree tomatoes and juices in a food processor or blender.
In a medium-size (2- to 3-quart) skillet, heat the lard or oil over medium. Add the onion and sauté until deep golden, about 8 minutes. Add the tomatoes and chile halves and simmer 15 minutes or so, stirring often, until nicely reduced but not dry (it should be an easily spoonable consistency). Taste (it will be wonderfully picante and nicely perfumed), season with salt, remove the chile if you want, and it's ready to use.
Make the epazote broth: In a medium (2-quart) saucepan, bring the water, epazote, onion and salt to a boil. Simmer for five minutes. Remove from heat for 15 minutes. Strain.
Make the pumpkinseed sauce Set a large (10-inch) skillet over medium heat. Pour the pumpkinseeds into a small skillet and set over medium heat. When the first one pops, stir constantly until all have popped from flat to round, about 5 minutes. In a high-speed blender set to high or a food processor, blend the toasted pumpkinseeds and epazote broth.
In a large saucepan set over low heat, add the pureed pepita sauce and warm through. It should be thick enough to warm the back of a spoon. (If the sauce boils, it will look curdled. Don't worry. Reblending the sauce in a loosely covered blended will smooth it out.)
Top a tortilla with chopped egg and roll it up, repeating the process until all of the tortillas are filled. Ladle with pumpkinseed sauce and garnish with tomato frito and more chopped egg.