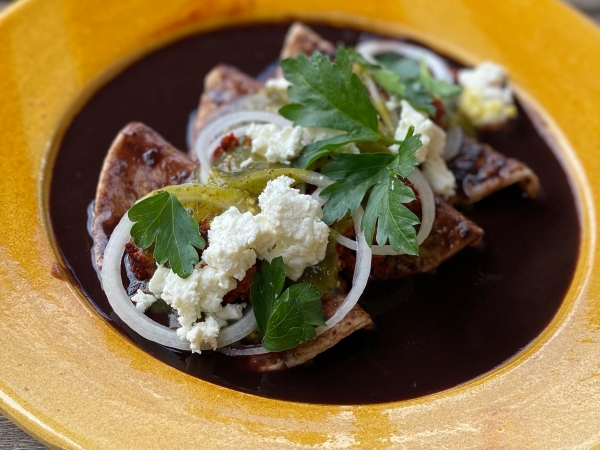 Though soaking beans is common in the United States to rid them of what can cause "intestinal distress" and to shorten the cooking time, that's not a common practice in Mexico.  And Mexico consumes roughly four times as many beans per capita as we do, which leads us toward understanding that the more beans you eat, the more easily our bodies digest them. Beans cook at different rates depending on variety, freshness and exact cooking temperature. However, I find that a lot of modern cooks—those not raised by a Mexican mother—tend to undercook the beans, ensuring that they look beautiful and whole, even though they have a slightly chalky interior.  Those beans are truly hard to digest.  The perfect bean is fully creamy on the inside (not cooked to the mushy state) with no hint of chalkiness.  A bean's skin is impervious to water, the only place it can absorb liquid being the small eye near the center on one side.  If you cook beans at too brisk a boil, you force a physical imbalance on them (forcing them to "drink" water too fast through too small an opening) and many will burst apart.  The slow cooker, because it cooks slightly below the simmer, always produces the best-textured whole beans, though it takes the longest.  Fully cooked beans can be achieved most quickly in the pressure cooker, though the device pressure and higher temperatures tend to produce the most broken beans. Boiling on the stovetop is many people's go-to and it works well, as long as you don't let the water boil away (for even cooking, beans should always float freely) and you keep the temperature low.
Ingredients
12

ounces

dried black beans, picked over for any stones or debris

Handful

of

dried avocado leaves, lightly toasted in a dry skillet (optional)

1 to 2

canned

chipotle chiles en adobo, roughly chopped

6

garlic cloves, peeled and halved

Salt

8 ounces

(about 1 cup)

Mexican fresh chorizo sausage, removed from its casing

About

1/2 cup

Roasted Tomatillo Salsa

OR

About

1/2 cup

Smoky Chipotle Salsa

About 1/2

cup

crumbled Mexican queso fresco or other fresh cheese like salted pressed farmers cheese or goat cheese

A

couple of

thin white onion slices, broken into rings and rinsed

A

handful of

flat-leaf parsley leaves

12

corn tortillas

A

little

vegetable oil, for brushing or spraying the tortillas
Instructions
Cook the beans.  If cooking on the stovetop, measure the beans into a large (4-quart) saucepan.  Add the optional avocado leaves, the chipotles, garlic and 6 cups water.  Bring to a boil, partially cover, then reduce the heat so that the beans simmer very gently until tender, usually about 2 hours.  If the water drops below the level of the beans, add more, so that they float freely. 
If using a slow-cooker, combine the beans, avocado leaves (if using), chipotle chiles, garlic and 6 cups water and cook covered on high until the beans are completely tender, usually about 6 hours.  
If using a pressure cooker (like an Instant Pot), combine the beans, avocado leaves (if using), chipotle chiles, garlic and 6 cups water and pressure cook for 1 hour, until the beans are tender.  I let the pressure release naturally for 15 minutes, then release the pressure valve and continue with the recipe.
Make the sauce. Strain the beans over a bowl and pour all the broth into a blender jar.  Remove the avocado leaves (if using), then measure ¾ cup of the beans in with the broth and blend until completely smooth.  (Refrigerate the remaining beans for another dish—they are perfect for classic Mexican fried beans.) Pour the sauce into a medium (3-quart) saucepan, set over medium heat and simmer briskly, stirring occasionally, until the consistency is that of a cream soup (the quantity will have reduced to 2 ½ cups), about 30 minutes.  Taste and season with salt, usually a generous teaspoon. Cover and keep warm on low heat.
The garnishes.  In a medium (9-inch) skillet, fry the chorizo over medium heat, breaking up clumps, until browned and completely cooked through, about 10 minutes.  (If the chorizo doesn't immediately start to render fat, you'll want to add a little oil to the skillet to ensure even cooking.)  Use a slotted spoon to scoop the chorizo onto a plate lined with paper towel to drain. (And you can save the fat to fry the leftover beans in!). Set out the salsa, cheese, sliced onion and parsley because assembling the enfrijoladas goes quickly.
The tortillas.  Lightly brush or spray both sides of each tortilla with oil.  Slide into a plastic bag (don't seal) or wrap in plastic and microwave at 100% power for 45 seconds to warm and soften. Let stand 1 minute until cool enough to handle.
Finish the enfrijoladas.   Set out 4 warm dinner plates.  One by one dip the tortillas into the hot bean broth, lay on a plate, then fold in half.  Arrange 3 tortillas on each plate, slightly overlapping.  Ladle a portion of the hot sauce over each serving, spoon on chorizo, splash on the salsa, sprinkle with the cheese and strew with parsley leaves.  Serve without hesitation.