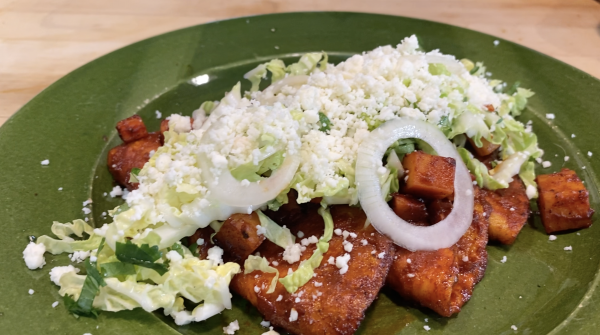 Ingredients
2

garlic cloves, unpeeled

4

medium (about 1 ounce total)

dried guajillo chiles, stemmed, seeded and torn into flat pieces

6

medium (about 3 ounces total)

dried ancho chiles, stemmed, seeded and torn into flat pieces

1/2

teaspoon

black pepper, preferably freshly ground

1/4

teaspoon

cumin, preferably freshly ground

Salt

2

medium-small (about 8 ounces total)

boiling potatoes like the red-skinned ones, peeled and cut into ½-inch pieces

2

large (about 8 ounces total)

carrots, peeled and cut into ½-inch pieces

5 to 6

tablespoons

vinegar—apple cider vinegar is common in Mexico (divided use)

1/2

small

head cabbage (I like the tenderness of savoy or Napa cabbage), cored and sliced thinly

A

small

handful of chopped cilantro if you have it

About 1/2

cup

vegetable oil

12

corn tortillas, preferably store-bought

2

thin

slices of white onion, broken into rings

About 3/4

cup (3 ounces)

crumbled Mexican queso fresco or other fresh cheese like goat cheese, feta or farmer's cheese
Instructions
Make the marinade.  Heat a large heavy skillet or griddle over medium.  When hot, lay the unpeeled garlic cloves.  On the other side, toast the chiles a few at a time, pressing them for a few seconds against the hot surface with a metal spatula, flipping them and pressing them to toast the other side.  They've toasted enough when they release their aroma, the inside changes to a lighter color and they perhaps send up a wisp of smoke. Place in a bowl, cover with hot tap water, cover with a plate to keep them submerged and let rehydrate for about 30 minutes.  Turn the garlic regularly until it is soft and blackened in spots, 10 to 15 minutes total. Cool and peel. Drain the chiles and place in a blender or food processor, along with the garlic, pepper, cumin and 1 ½ cups water.  Blend to a smooth puree, then press through a medium-mesh strainer into a bowl.  If thicker than a light tomato sauce, thin with additional water.  Season highly with salt, usually a generous teaspoon.
Prepare the vegetables.   In a medium saucepan, cover the potatoes and carrots with water, add 3 tablespoons of the vinegar and a generous teaspoon of salt.  Bring to a simmer and cook until tender, about 10 minutes.  Drain well. In a bowl, toss the cabbage with the optional cilantro, 2 tablespoons of the vinegar and 1 tablespoon of the oil.  Taste and season with salt, usually about ½ teaspoon and additional vinegar if you think the cabbage could use a little more tanginess.  
Sear the enchiladas and vegetables.  This is all last-minute work, so guests should be at the table.  Turn on the oven to low and set four dinner plates in it.  Heat a very large (12-inch) skillet or wok over medium to medium-high heat. When hot, add enough oil to coat generously, then pick up a tortilla very close to the edge, dip it into the marinade (it should coat evenly but not heavily) and lay it in the oil to sear.  When 3 are in the pan, the first will likely be starting to brown on the edges and ready to flip—I use a metal spatula.  When all have been flipped and seared on the other side (it takes about 30 seconds per side), use the spatula to fold them in half and shingle them onto 1 of the warm plates.  Return to the oven.  Repeat the enchilada-searing, wiping out the pan between servings, until all the tortillas are done.  Return the pan to the heat, add oil to coat and, when hot, add the potatoes and carrots.  Splash with some of the remaining marinade and cook until the marinade has darkened and the vegetables are beginning to brown. 
Serve. Scatter the seared vegetables over the seared enchiladas.  Top each plate with a portion of the cabbage, a few onion rings and the cheese and you're ready to eat.