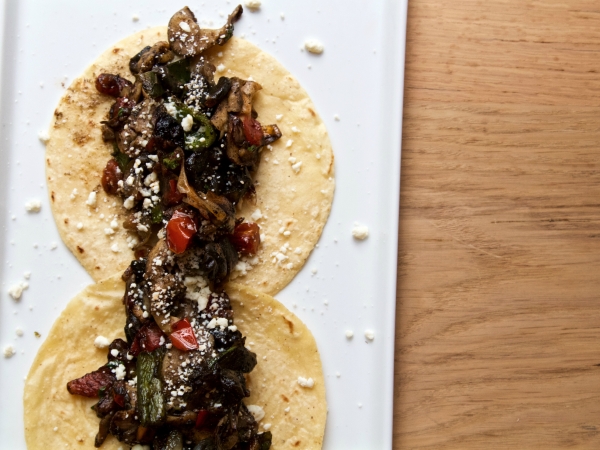 Ingredients
2

fresh poblano chiles

2

tablespoons

olive oil

1

medium

white onion, sliced 1/4-inch thick

2

cloves

garlic, peeled and finely chopped

1

medium

tomato, diced

1

cup

packed, roughly chopped lobes of oyster mushrooms

6

ounce

can of huitlacoche (available at Mexican markets)

Salt

2 to 3

tablespoons

epazote leaves, chopped

12

corn tortillas
Instructions
Roast the chiles directly over a gas flame or 4 inches below a very hot broiler until blackened on all sides, about 5 minutes for open flame, about 10 minutes for broiler. Cover with a kitchen towel and let stand 5 minutes. Peel, remove stem and seeds. Then rinse briefly. Chop into ¼-inch pieces.
In a large (10-inch) skillet, heat the oil over medium. Add the onion and fry, stirring regularly, until lightly browned, 7 to 10 minutes. Stir in the garlic and cook about 2 minutes more. Increase the heat to medium-high, add the tomato and cook, stirring occasionally, until the juices have reduced, about 4 minutes.
Add the poblanos to the tomato mixture along with the huitlacoche and other mushrooms, simmer stirring often, until reduced and quite thick, about 10 minutes. Season with salt, usually about 1 teaspoon, and mix in the epazote. Spoon the mixture into warm corn tortillas and top with queso añejo.