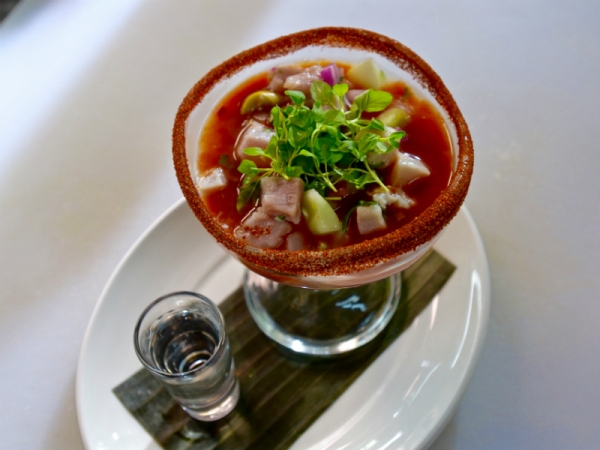 This is based on a recipe from our restaurant Leña Brava, which means it wasn't conceived originally with thoughts of easy execution in a home kitchen. (The result is really delicious, mostly because we work with ingredients and a host of techniques that insure all that deliciousness. All that adds up to job security for those of us in the kitchen.) We serve this coctel in a goblet onto whose rim we have crusted a mixture of guajillo chile and celery salt. If you have goblets, in a flat plate mix together equal parts powdered guajillo chile and celery salt., rub a cut lime around the rims of the goblets, then upend them into the chile mixture to coat each rim evently. At the restaurant, we serve a shot of mezcal on the side of each order, inviting our guests to either drink the mezcal, mix it in or a little of both. You can do the same. Or for simplicity's sake, just mix it in right before serving.
Ingredients
For the ceviche

1

pound

pound boneless, skinless ocean fish (I like albacore tuna for this), cut into cubes slightly less than ½ inch

About 2

cups

fresh lime juice (enough to cover the cubed fish)

About 3/4

cup

cubed cucumber

1/2

cup

chopped green olives (Manzanillas are common in Mexico)

1 to 2

tablespoons

chopped cilantro, plus extra sprigs of cilantro for garnishing

Salt

For the Bloody Maria

1

cup

bottled clam juice

2

tablepoons

dashi powder (available at Asian markets and well-stocked grocery stores; if unavailable, simply leave it out)

2

cups

tomato juice

3

tablespoons

fresh lime juice

2

tablespoons

Worcestershire

1 to 2

tablespoons

Mexican hot sauce (like Tamazula or Valentina)

For Serving

2/3 to 1

cup

mezcal
Instructions
Make the ceviche. In a non-reactive bowl (glass or stainless), mix together the fish and enough lime juice to allow it to float somewhat freely. Let the fish "cook" in the lime juice until it's as done as you like (for raw tuna, that's just 20 minutes for me). Drain the fish, leaving a couple of tablespoons of the lime juice behind, then mix in the cucumber, olives and cilantro. Taste and season with salt, usually about 1/2 teaspoon.
Make the bloody maria "broth." In a small saucepan, mix together the clam juice and dashi power. Bring to a simmer, remove from the heat and allow to cool. (If you're not using the dashi powder, skip this step.) Mix together the clam juice mixture (or straight clam juice) with the tomato juice, lime juice, Worcestershire and hot sauce. Taste and season with salt if you think it needs it.
Finish the dish. Divide the ceviche between serving goblets or small bowls. Decide if you're mixing in the mezcal or serving it on the side. If mixing in, stir it into the bloody maria, then pour a portion over each serving of ceviche. Top with sprigs of cilantro and you're ready to serve.