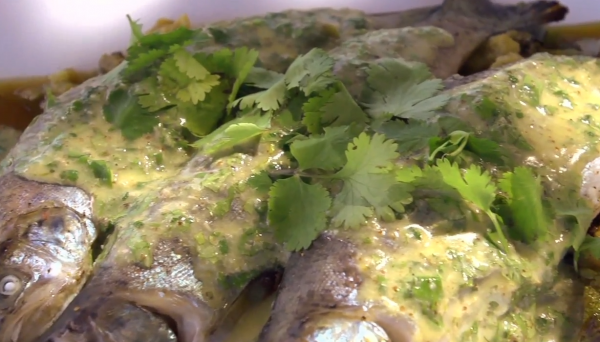 From Season 8, Mexico—One Plate at a Time
Ingredients
Rainbow Trout

1

cup

hickory chips soaked in 1 cup wine for 30 minutes

8

rainbow trout, preferably butterflied (8 ounces each)

Salt

Black pepper, preferably fresh ground

4

green onions, cut into 2-inch pieces

1/2

fennel bulb, cored and sliced 1/4-inch thick

2

large

omatoes, each cut into eight pieces

1

jalapeno,

halved and thinly sliced

1

lemon, sliced in rounds, 1/2–inch thick

1

cup

white wine

Zucchini Mash

5

medium (2 1/2 pounds total)

Mexican calabacitas (AKA tatume) or small zucchini

3

large

garlic cloves, peeled

1

teaspoon

coarse sea salt

2

tablespoons

olive or vegetable oil

Cilantro-Horseradish Aioli

2

teaspoons

(loosely packed) chopped fresh cilantro (thick stems cut off), plus extra cilantro leaves for garnish

1

egg yolk

2

teaspoons

prepared horseradish

1

tablespoon

fresh lime juice

1/2

cup

good-quality olive oil
Instructions
Heat a gas grill to medium or light a charcoal fire and let it burn until the charcoal is covered with white ash and about medium-hot. Add the soaked wood chips to the grill. For a gas grill, place them in a smoker attachment box or wrap the chips in foil, poking holes to allow the smoke to escape; for charcoal, place them on the hot coals. Place the fish into a 13 x 9-inch baking dish. Season the fish inside and out with salt and pepper. Scatter the green onions, fennel, tomatoes, jalapeño and lemon over the top of the fish. Pour the white wine over the fish and vegetable mixture. Once the chips start smoking, place the dish, uncovered, onto the grill. Close the grill and cook until the fish gives slightly under firm pressure of a finger, 15 to 20 minutes, depending on the heat of the grill.
Pierce the zucchini all over with a fork. Finely chop the garlic. Sprinkle the salt over it and with the flat side of a knife mash together into a paste. Scoop into a bowl and mix in the oil. Coat the zucchini with the mixture and place on the grill, turning occasionally until tender and browned, about 25 minutes. Remove the zucchini to a cutting board and roughly chop. Scoop back into the bowl with the marinade and mash with a fork. Taste and season with additional salt, if necessary. If the zucchini mash is watery, strain before serving.
Whisk together the cilantro, egg yolk, horseradish, lime juice and 1/2 teaspoon salt in a small bowl. Pour in the olive oil in a thin stream, whisking as you pour. Cover and refrigerate.

Spoon the zucchini mash down the center of a large heated platter. Lay the fish (and the vegetables if you wish) on top of the zucchini. Spoon on the aioli and garnish with cilantro leaves and you're ready to serve.