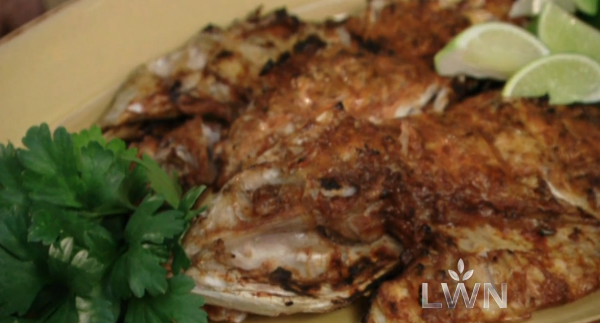 In Mexico, the fish for this dish is typically split in half from head to tail, leaving in most of the bones. At Tino's, the famous
Fish Zarandeado
place near Puerto Vallarta, they split the fish, but remove the backbone. The two marinated sides (imagine them as fillets with head, tail and rib bones still in place) get grilled along with the marinated backbone—making it easier for guests to enjoy the fish, but not depriving them of the tasty nuggets around the backbone. If you're not a wizard with a knife, simply have the fishmonger fillet your fish, but keep the bones to marinate and grill along with the boneless parts. 
The strong Asian influence along Mexico's west coast surfaces in the use of soy sauce in the marinade and Chinese toasted chiles in oil as a condiment. But I've never quite understood why Tino's marinade starts with achiote, a spice that's used in almost no regional Mexican cooking except that of the Yucatan. My marinade echoes Tino's quite accurately, except that I've replaced achiote with ancho chile puree.
Recipe from Season 4, Mexico—One Plate at a Time
Ingredients
4

ancho chiles or 8 guajillo chiles,

stemmed, seeded and torn into flat pieces

1

8-ounce can

tomato sauce

2

garlic cloves, peeled

3

tablespoons

soy sauce

3

tablespoons

Worcestershire sauce

Salt

1

3-pound

fish (round fish like snapper, grouper or striped bass work really well)—ask to have it filleted, but keep the bones

Oil for brushing or spraying the basket and fish

12

warm corn tortillas

1

medium

red onion, thinly sliced, for serving

2

limes, cut into wedges, for serving

Chinese toasted chiles in oil (or your favorite salsa or hot sauce), for serving (optional)
Instructions
Make the marinade. In a dry skillet over medium heat, toast the chile pieces a few at a time, pressing them firmly against the hot surface with a metal spatula until they are aromatic, about 10 seconds per side. In a bowl, rehydrate the chiles for 20 minutes in hot tap water to cover; place a plate on top to keep them submerged.
Use a pair of tongs to transfer the rehydrated chiles to a food processor or blender. Add 1⁄2 cup of the soaking liquid, along with the tomato sauce, garlic, soy and Worcestershire. Blend to a smooth puree. Press through a medium-mesh sieve into a bowl. Taste and season highly with salt, usually about 2 teaspoons.
Prepare the fish. Cut 1⁄2-inch-deep diagonal slashes along the flesh side of the fish (to promote even cooking and aide in marinade penetration). Sprinkle with both sides with salt. Spread or brush about 3 tablespoons of the marinade over both sides of the fish—spread some on the bones as well. You'll probably have marinade leftover for another round of fish. (It'll keep for a couple of weeks in the refrigerator.)
Grill and serve. Turn on a gas grill to medium or light a charcoal fire and let it burn to until the coals are covered with white ash. Lay a grill basket over the fire. When quite hot, brush or spray the basket generously with oil. Spray or lightly brush the fish with oil, then lay the oiled-side down on the basket; spray or brush the other side. Close the basket and cook lay over the fire. Cook, turning every 3 or 4 minutes, until the fish is cooked through but still juicy—a 3-pound snapper typically takes 10 to 15 minutes.
Gently and carefully open the basket and remove the fish to a platter. Serve with warm tortillas, red onion, lime and toasted chiles for making very tasty soft tacos.