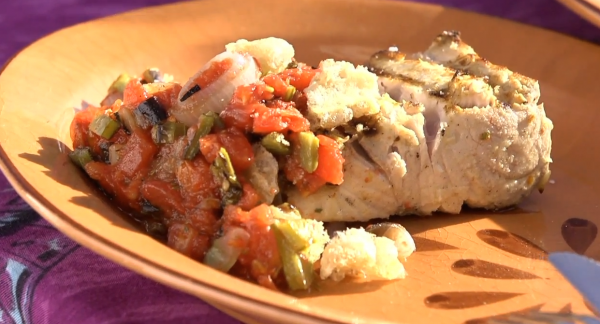 From Season 8, Mexico—One Plate at a Time
Ingredients
6

garlic cloves, peeled and finely chopped

1/2

cup

good-quality olive oil

2

tablespoons

fresh lime juice (preferably key limes- you'll need about 4)

Salt

Black pepper, preferably freshly ground

4

6-ounce

skinless yellowtail (or other firm white fish like American Red Snapper or striped bass) fillets

1/2

cup

coarsely crumbled chicharron (Mexican crisp-fried pork rind)
Instructions
Combine the garlic, olive oil and lime juice in a large bowl. Season with 1/2 teaspoon salt and a little black pepper. Place the fish in the bowl and smear all sides with the marinade. Let stand for 30 minutes.
Heat half of a gas grill to medium-high. Or light a charcoal fire and let it burn until the charcoal is covered with white ash, then bank the coals to one side. Lay the fish directly over the heat and grill until the grill marks are a rich brown and the fish releases from the grill, about 2 minutes. Flip it over and grill the other side, then move it to the cooler side and let it coast slowly to perfect doneness (the fish will flake under firm pressure from a finger), about 3 to 4 minutes.
Transfer each fillet to a dinner plate. Spoon the Charred Tomato-Nopal Salsa over the top and garnish with the crumbled chicharron.