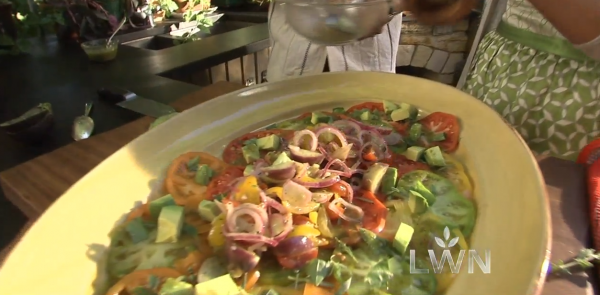 Recipe from Season 6, Mexico—One Plate at a Time
Ingredients
Dressing

3

garlic cloves, unpeeled

1/4

cup

(lightly packed) cilantro leaves

2 1/2

tablespoons

light vinegar (like cava or rice wine vinegar)

1/4

cup

good-quality olive oil (or unrefined corn or peanut oil)

Freshly ground black pepper, usually about 1/4 teaspoon, plus addition for the sliced tomatoes

Salt

Salad

About 1

cup

Thinly sliced red onion (preferably the long, skinny

About 6

ounces

tomatillos,

(preferably the small purple tomatillos - about 6 of them), cut into eighths (about 1 cup)

About 6

ounces

cherry tomatoes (preferably a mixture of red and yellow - about a dozen), cut in halves or quarters

4 to 6

medium-size

ripe heirloom tomatoes, cored and sliced 1/4-inch thick

1

medium-sized

avocado, pitted, flesh scooped from the skin and diced into 1/2-inch pieces

A

generous tablespoon

roughly chopped fresh herb (cilantro is an easy choice, but don't overlook basil, lemon balm, or anise hyssop - even arugula - or mixture of your favorites)
Instructions
In a small, ungreased skillet over medium heat, roast the unpeeled garlic, turning regularly, until soft and blotchy black in spots, 10 to 15 minutes. Cool until handleable, then peel off the paper skin. In a blender or food processor, combine the garlic, cilantro, vinegar, oil and pepper. Process until smooth, then taste and season with salt, usually about 1/2 teaspoon.
In a medium bowl, combine the onion, tomatillos and cherry tomatoes with 3 tablespoons of dressing. Let stand while finishing the salad, stirring from time to time.
On a very large platter, lay out the sliced tomatoes in as close to a single layer as possible.
Just before serving, dot the tomatoes with the avocado and sprinkle with the herbs and fresh-ground pepper (I like the pepper pretty coarse for the tomatoes). Drizzle with the dressing, then pile the tomatillo salad in the center, and your impressive tomato salad is ready to serve.