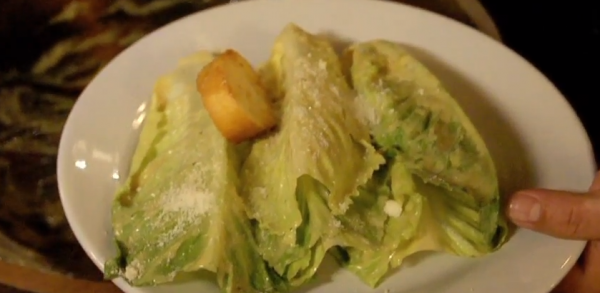 From Season 8  Mexico - One Plate at a Time
Ingredients
A half of a long baguette, sliced into 1/4-inch rounds, brushed with olive oil

2

garlic cloves, peeled and finely chopped

6

canned anchovies

2

tablespoons

fresh lime juice

1

tablespoon

Dijon mustard

2

tablespoons

Worcestershire sauce

1

egg yolk

3/4

cup

good-quality olive oil

4

romaine hearts (36 leaves)

1/2

cup freshly grated

Mexican queso añejo

or other garnishing cheese such as Romano or Parmesan,
Instructions
Heat the oven to 425 degrees. Spread the baguette slices on a baking sheet and bake until well browned and crisp, about 10 minutes.
In a very large bowl, mash the garlic into a paste using either the back of a fork or a wooden spatula. Add the anchovies and lime juice and mash them to a paste with the garlic. Mix in the mustard, then the Worcestershire and finally the egg yolk. Slowly drizzle the olive oil in a thin stream into the base, whisking with the fork as you add it, until it comes together as a light dressing. Pour half the dressing into a jar, cover and refrigerate. Add the romaine leaves to the remaining dressing and toss to coat.
Arrange 6 romaine leaves on each of the 6 chilled plates. Sprinkle with the grated cheese and garnish with a toasted croutons.