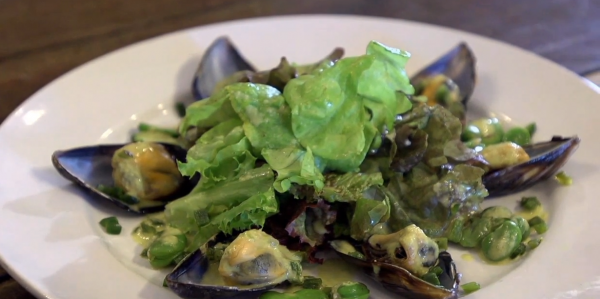 From Season 8,  Mexico—One Plate at a Time
Ingredients
Green Olive Dressing

2

fresh poblano chiles,

divided use

4

garlic cloves, unpeeled

1

cup

fresh squeezed lime juice

1

cup

fruity olive oil

1/2

cup

pitted green olives (we like manzanilla), plus 1/4 cup for garnish (optional)

Salt

Finishing the dish

1 1/2

cup

dry white wine

36

tightly closed mussels, scrubbed and de-bearded

1/2

pound

fresh fava beans, hulled, unpeeled

6

cups

mixed baby greens (about 1/2 pound)
Instructions
Prepare the dressing. Roast the poblanos directly over a flame or 4 inches below a very hot broiler, turning frequently, until blackened all over, about 5 minutes for the open flame, 10 minutes under the broiler. Cool under a kitchen towel until handleable, then rub off the skin, pull out the stem and seed pod. Rinse the chile to remove remaining bits of skin and seeds. Roughly chop one of the chiles and place it in a blender jar. Finely chop the other poblano and set aside to use as a garnish for the salad.
Over medium heat, roast the unpeeled garlic in a small dry skillet until it is soft and blackened in spots, about 15 minutes. Cool, slip off the papery skins and add the garlic to the blender. Pour in the lime juice and olive oil along with 1/2 cup of the olives and 1 teaspoon salt. Blend until smooth.
Steam the mussels. Set a large (8 quart) stockpot over high heat and pour in the wine. When it comes to a boil, add the mussels and stir. Cover and boil until the shells have opened, usually around 7 minutes. Scoop out the mussels with a slotted spoon and cool. Remove the top shell, leaving the mussel in the bottom half of the shell. Refrigerate until you're ready to serve.
Roast the fava beans. In a medium (8- to 9-inch) skillet over medium heat, roast the fava beans until they're soft and blackened in spots, about 10 minutes. Cool, peel and set aside.
Assemble the salad. Scoop the mixed greens into a large bowl and lightly dress them with the Green Olive Dressing. Pile a portion of the greens on each of six chilled salad plates. Arrange 6 mussels per plate around the greens. Spoon some of the roasted fava beans between each of the mussels. Drizzle more of the dressing over the mussels and fava beans. Chop the remaining 1/4 cup green olives, sprinkle them with the reserved chopped poblanos over the salad and you're ready to serve.