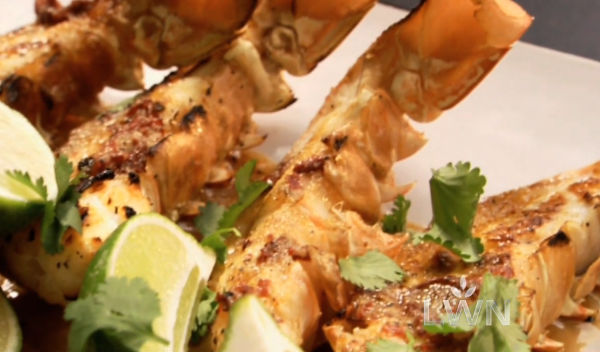 Recipe from Season 5, Mexico—One Plate at a Time
Ingredients
1/3

cup

good olive oil

8

garlic cloves, peeled and halved

2/3

cup

chicken broth

Salt

1/2

teaspoon

fresh black pepper (I like it coarsely ground), plus more for seasoning the fish

1

(or more)

canned chipotle chiles en adobo,

seeded and thinly sliced

4

5- to 6-ounce lobster tails (if frozen, defrost them in the refrigerator overnight)

1/2

cup

chopped cilantro

1

large

lime, cut into wedges
Instructions
Light a gas grill, setting the temperature at medium-high; or light a charcoal fire, letting the coals burn until they're covered with white ash but still very hot.
While the grill is heating, prepare the mojo. In a small skillet or saucepan, warm the olive oil over medium heat. Add the garlic and cook until soft, lightly browned and very aromatic, about 2 minutes. Pour the garlic and oil into a food processor or blender jar, add the broth, 1/2 teaspoon salt and the pepper. Blend until smooth, then pour about a quarter of the mixture into a small bowl; pour the remaining mixture back into the skillet or saucepan and stir in the chipotle chile; keep warm over very low heat.
With a large, heavy knife, cut the lobster tails in half lengthwise. Using the smaller amount of garlic mixture, brush a generous amount over the flesh-side of each lobster tail half. Sprinkle with salt. Lay flesh-side down on the hot grill. After about 2 minutes, when the lobster has browned a little and can be easily dislodged from the grill, flip them over and cook shell-side down until the meat is done, usually 3 to 4 minutes longer. (Run the tip of a knife between meat and shell; when the meat is cooked, it will dislodge quite easily.)
Transfer the lobster to dinner plates, spoon the warm mojo over the top and sprinkle with the chopped cilantro. Garnish each plate with a lime wedge.