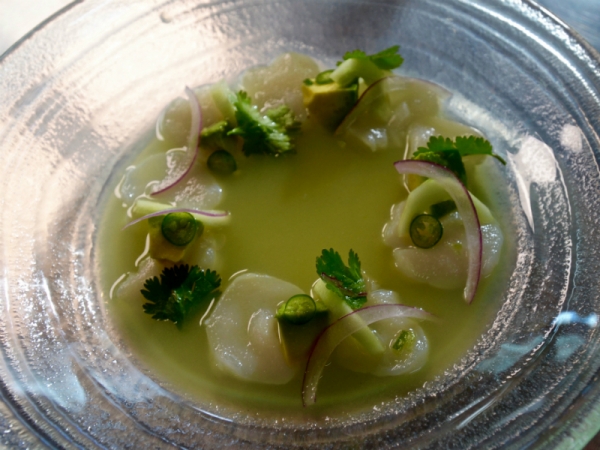 This dynamic dish of spicy, limey sliced raw scallops is one of the signatures at our restaurant Leña Brava. There, on a glass plate we make a beautiful arrangement of scallops, chile, red onion, cilantro, cucumber and avocado. In a cocktail shaker, we muddle a few slices of serrano chile, a sprig of cilantro and a thin slice of red onion. To that we add a few ice cubes and 3 to 4 tablespoons of the spicy lime broth. As we set the scallops on the table, we seal up the cocktail shaker, shake it as we would a cocktail to chill the "broth" and give it a final infusion of the muddled aromatics, then we pour it over the scallop-and-vegetable arrangement.
Ingredients
12

large

sea scallops (I prefer the ones sold as "dry pack scallops" for the fullest flavor)

3

large

fresh serrano chiles,

thinly sliced, seeds and all

1/2

small

red onion, very thinly sliced

1

large

cucumber (for this preparation, I'd choose an English/hothouse cucumber or a couple of the pickling cucumbers from the farmer's market), thinly sliced, then slices cut into half moons

1

large

avocado,

pitted, flesh scooped from the skin and cut into medium cubes

A big

handful

cilantro leaves

For the Spicy Lime Broth

1/2

large

large cucumber, peeled and roughly chopped

2

fresh

serrano chiles, stemmed and roughly chopped

1

cup

lime juice

A generous

teaspoon

salt

1/2

teaspoon

sugar
Instructions
Slice each scallop into 4 rounds and shingle 8 slices onto each of 6 serving plates. Strew each plate with serrano slices, red onion slices, cucumber half moons, diced avocado and cilantro leaves. In a blender jar, combine the cucumber, serrano chiles, lime juice, salt and sugar. Blend until smooth, then strain. Pour a portion of the spicy lime "broth" over each plate of scallops and serve right away.