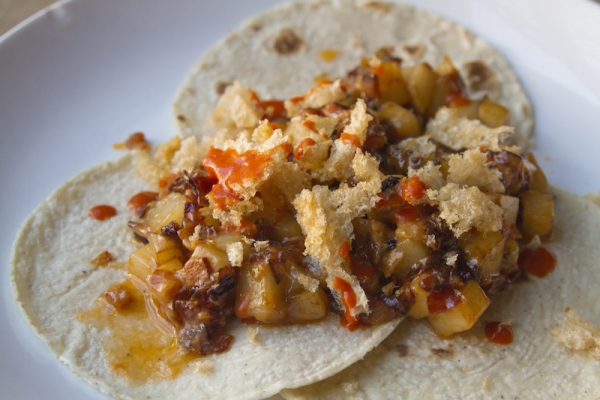 Ingredients
1

small white onion, diced

2 to 4

ounces

(2 to 4 thick strips) bacon, cut crosswise into 1/2-inch pieces

2

pounds

red skinned potatoes, cut into 3/4-inch chunks (about 3 cups)

1/4

cup

shredded melting cheese, like Jack cheese

Hot sauce

1

piece

chicharrón
Instructions
In a large (10-inch) skillet set over medium heat, cook the bacon and onions, stirring occasionally, until the bacon is crispy and the onions are golden, about 10 minutes.
Scoop the potatoes into a microwave-safe bowl and splash with a few tablespoons of water. Cover with plastic wrap, poke a few holes in the top and microwave at 100% for 3 minutes, until mostly cooked. Tip out the water and add the potatoes to the pan, raise the heat to medium-high until the potatoes begin to crisp, about 4 minutes. Sprinkle the skillet with cheese and hot sauce. 
Scoop the mixture into warm tortillas and top with chicharrón and more hot sauce.