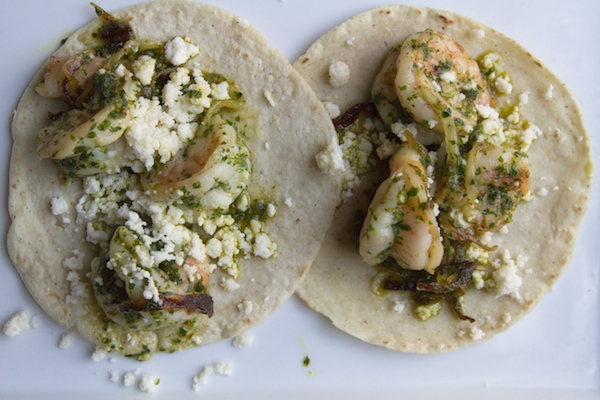 Ingredients
For the Green Chile Adobo

1/2

head

garlic, separated into unpeeled cloves

4 to 5

fresh

serrano chiles, stems removed

1

large

bunch cilantro (thick bottom stems cut off), roughly chopped (about 2 cups loosely packed)

1

large

bunch flat-leaf parsley (thick bottom stems cut off), roughly chopped (about 2 cups loosely packed)

1

cup

olive oil

Salt

For the tacos

1

pound

shrimp, peeled, and, if you like, deveined

Salt

2

tablespoons

vegetable oil, olive oil, bacon drippings or freshly rendered pork lard

1

medium

onion, cut into 1/4-inch slices

1/4

cup

crumbled Mexican queso fresco or queso añejo or other fresh or aged garnishing cheese like fresh farmers' cheese, dry goat cheese, Romano or Parmesan
Instructions
For the Green Chile Adobo: In a large (10-inch) skillet set over medium heat, lay in the garlic and chiles and roast, turning regularly, until soft and browned in spots, about 10 minutes for the chiles and 15 for the garlic. When the chiles and garlic have cooled, slip the skins off the garlic, roughly chop everything (no need to remove the chile seeds) and scoop it into a blender or food processor.
Add the cilantro, parsley, olive oil and salt and process it all, stopping to scrape in the sides if necessary, until it's nearly smooth and looks like a pesto. Scoop out 1/3 cup of the adobo, combine it with 2 tablespoons of water and set it aside. Cover the remaining adobo and keep it in the refrigerator for another use.
For the shrimp: Pat the shrimp dry with paper towels and season with a generous sprinkling of salt.
In a very large (12-inch) skillet set over medium-high, heat the oil (or one of its stand-ins). Lay in the shrimp in a single layer and strew the onion onto the open spots. As the shrimp sears, nestle in the onion slices, turning them as they brown. When the shrimp are browned one on side, about 2 to 3 minutes, turn them over, brown the other side, about 2 to 3 minutes more.
Spoon in the adobo and mix together, scoop into warm tortillas and top with queso fresco.