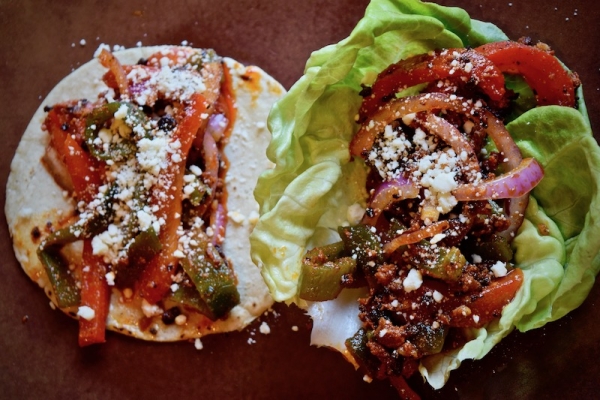 Ingredients
1 1/4

pounds

large fresh peppers (I like a mixture of 1 large poblano and 2 medium red bell peppers)

1/4

cup

(4 ounces) fresh Mexican chorizo sausage, casing removed

2

garlic cloves, peeled and finely chopped

2/3

cup

vegetable oil, olive oil or a mixture of the two

1/4

cup

cider vinegar

1

teaspoon

crumbled dried Mexican oregano

1/2

teaspoon

salt

1

small

red onion, thinly sliced

12

fresh

corn tortillas OR 12 large leaves of Boston/butterhead lettuce or bibb lettuce)

1/2

cup

freshly grated Mexican queso añejo

or other dry grating cheese, such as Romano or Parmesan, for garnish
Instructions
Roast the peppers over an open flame or 4 inches below a broiler, turning regularly until blistered and blackened all over, about 5 minutes for an open flame, about 10 minutes under the broiler. Place in a bowl, cover with a kitchen towel, and let cool until handleable.
In a small skillet over medium heat, cook the chorizo, stirring and breaking up the clumps until the sausage is browned, 8 to 10 minutes. Add the garlic, stir for a minute longer, then scrape into a pint jar (or other container), leaving behind as much fat as possible. Add the remaining ingredients, secure the lid and shake until smooth. Taste and season with additional salt if you think necessary. (You should have about 1 cup of dressing.)
Rub the blackened skin off the chiles, pull out the seed pod and rinse briefly to remove bits of skin and seeds. Cut the chiles into ¼-inch strips and place in a bowl along with the onions. Shake the dressing to thoroughly combine, then drizzle the pepper mixture with about 1/3 cup of the dressing. (If you want to use this as a warm dressing as is common for spinach salad, microwave uncovered for 15 to 20 seconds.) Taste and season with salt, usually about ¼ teaspoon.
Serve with fresh warm corn tortillas. Or for a lighter dish, arrange a few lettuce leaves on each of 4 small plates instead of the tortillas. Scoop a portion of the pepper mixture in the center. Shake the dressing well and drizzle a little over the lettuce. (Cover and refrigerate the remaining dressing for another salad.) Sprinkle the tacos with the cheese and they're ready to eat.