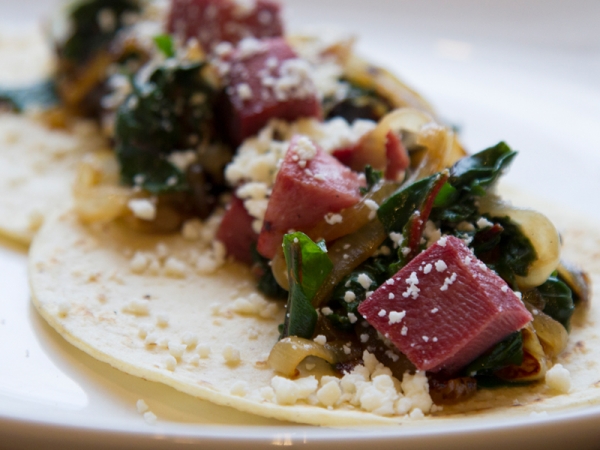 Ingredients
2

tablespoons

olive oil

1

medium

white onion, sliced 1/4-inch thick

3

garlic cloves, thinly sliced

4

cups

loosely packed, stemmed and sliced green chard, red chard or Swiss chard

1/4

cup

chicken broth

1

slow cooked OR smoked

(about 2-3 pounds) beef tongue, boned and trimmed of excess skin

12

warm corn tortillas
Instructions
For the tongue. In a slow cooker set to the "low" setting, add the whole tongue and enough water to cover. Add in a sliced onion, a few cloves of garlic and some dried herbs and simmer until tender, usually about 8 hours. (Alternatively, you can seek out a smoked, cured (fully cooked) tongue from a Mexican butcher.) Remove bone and excess cartilage, trim away the skin and cut tongue into a thick dice.
In a large (10-inch) skillet, heat about 1 tablespoon of the oil over medium. Add the onion and cook, stirring regularly until richly browned, about 10 minutes. Add the garlic, stir for about 30 seconds until fragrant, and add the greens and chicken stock (or, if using the slow cooker preparation, add in the simmering liquid from the slow cooker). Cook until greens are wilted down, three to four minutes.
Add the tongue to the skillet, stir to combine, and cook for about 2 to 3 minutes.
Scoop the mixture into warm tortillas and finish with a generous sprinkling of the cheese.