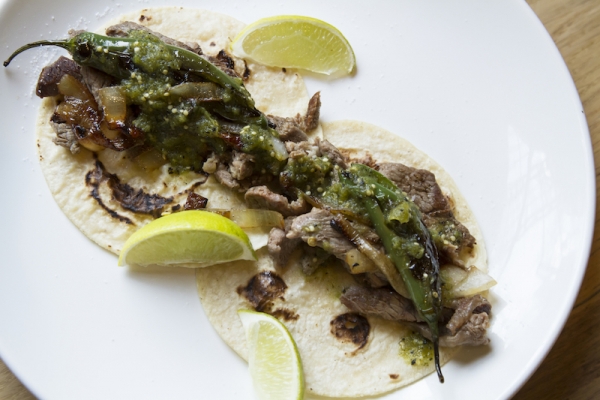 Ingredients
12-24

fresh

fresh serrano chiles (depending on your penchant for hot food), stemmed (optional)

2-3

tablespoons

rich-tasting pork lard, vegetable oil, or bacon drippings

1

medium

white onion, sliced 1/4-inch thick

1 1/2

tablespoons

fresh lime juice

Salt

1

pound

thin-cut beef (look for cecina, tasajo, or butterflied skirt steak in a Mexican market, or thin-cut round tip — ⅛ to ¼ inch (3 to 6 mm) thick — also known as minute steak, sandwich steak, or breakfast steak in an American market)

12

warm

corn tortillas

Roasted Tomatillo Salsa

for serving
Instructions
The chiles.  With a small sharp knife, cut straight down through each chile, starting just below the stem and continuing to the point. Each chile will be cut in half except for the spot just below the stem end that holds it together. Rotate each chile a quarter turn and make a similar cut, resulting in chiles that are cut into 4 long pieces held together at the stem end.
Measure 1 tablespoon of the lard, oil, or bacon drippings into a large 12-inch heavy, well-seasoned skillet (preferably cast iron) or griddle and set over medium-high heat. When hot, add the onion slices and cook, stirring often, until they are richly golden and charred in spots, 7 to 8 minutes
Add another tablespoon of lard and the chiles to the pan and cook until they are blistered all over, about 5 minutes. (Make sure the kitchen is well ventilated during this step!) Deglaze the pan with lime juice and sprinkle the chiles with salt. Transfer to a plate and set aside.
Generously salt both sides of each piece of meat. Wipe the skillet or griddle and return it to medium high heat. Add the remaining 1 tablespoon lard, oil, or bacon drippings. When very hot (it'll just begin to smoke), lay in the meat in a single layer. If it doesn't all fit comfortably, you'll need to do this in 2 batches. Sear the meat on one side until brown (about 1½ minutes), flip it, and sear the other side. Transfer to a cutting board; tent with foil if you are searing the meat in batches.
To serve, chop the seared steak into ½-inch bits and mix with the onions. Spoon some of the filling onto warm tortillas, drizzle with roasted tomatillo salsa, and top with the blistered serranos. Serve with the lime wedges, if desired.