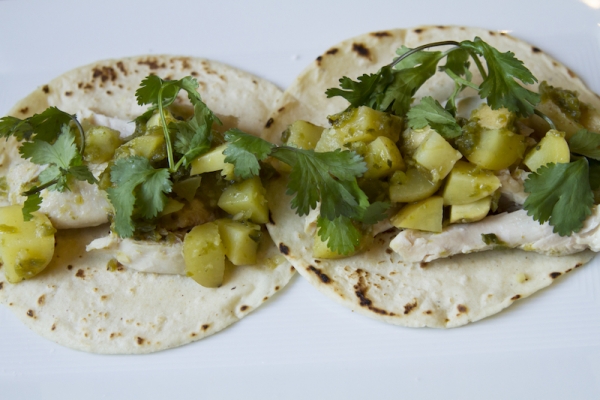 Ingredients
4

(about 1 pound total)

fresh poblano chiles

4

garlic cloves

peeled and finely chopped

2

tablespoons

olive oil

Salt

1

pound

small red- or white-skin boiling potatoes (I like ones that are about 1-inch across; if they're larger I cut them in halves or quarters), peeled if you wish

2

10-inch piece

banana leaf,

(optional; divided use)

8

chicken thighs

boneless, skinless (about 2 pounds total) or bone-in, skin-on (about 3 1/2 pounds total)

1/2

cup

chopped cilantro

1

lime

cut into 8 wedges

20

warm corn tortillas
Instructions
Roast the poblanos directly over an open flame or 4 inches below a broiler, turning regularly until blistered and blackened all over, about 5 minutes for a flame, about 10 minutes for the broiler. Cover with a kitchen towel and cool until handleable. Rub off the blackened skin, then pull out the stem and seed pod.  Briefly rinse to remove any stray seeds or bits of skin. Give the cleaned chiles a rough chop.
Scoop the garlic into a food processor or blender and pulse a few times until they're roughly chopped. Add the poblano and continue to pulse until finely chopped but not pureed. Pour in the oil and ½ teaspoon salt and pulse a few more times, just to combine.
In a microwavable bowl, collect the potatoes, sprinkle on a couple of tablespoons of water, cover with plastic, poke a few holes in the top and microwave at 100% for 5 minutes, until nearly tender. Note: make sure you've cut the potatoes into small enough pieces. Otherwise there's a chance that they won't be done when the thighs are ready.
Cut 2 pieces of heavy-duty foil 2 feet long (lightweight foil tends to burn during the cooking process) and lay one on top of the other.  If you're using the banana leaf, lay it over the foil. Arrange the chicken thighs (if there is skin, put that side down) over half of the foil or banana leaf in a single layer, leaving a border of about 1 inch on the edges. Sprinkle generously with salt. Distribute the potatoes over the chicken, then spoon on the poblano-garlic puree. Fold the uncovered side of the foil up and over the chicken, then fold the edges together, rolling them over several times to create a sealed packet.
Slide the packet into a 450 degree oven and let cook for 30 minutes.  Remove the package from the heat, open up one side (carefully: there will be steam!) and check the chicken for doneness.
Open up the package and transfer the chicken thighs to a cutting board and slice into ½ inch pieces.  Transfer the chicken thigh pieces to a platter lined with a fresh banana leaf (if you have one), removing the skins from the thighs if you wish. Add the potatoes to the chicken, including the juices that remain in the foil over the top. Taste and season with more salt if you think the dish needs it.  Scoop into fresh warm tortillas, sprinkle generously with the cilantro and serve with the lime wedges.