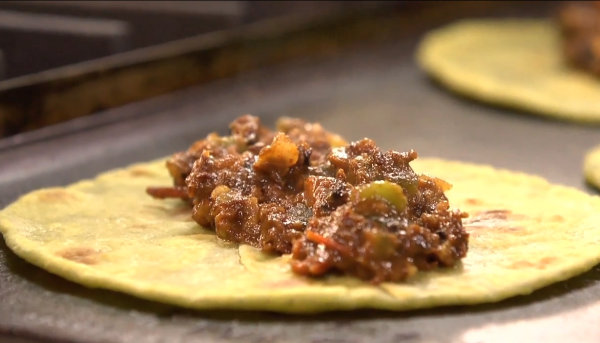 From Season 8, Mexico—One Plate at a Time
Servings:
2
1/2 cups, enough for 8 to 10 burritos
Ingredients
4

ounces

home-style beef jerky (preferably from a Mexican grocery store)

5

tablespoons

rich-tasting lard

or olive oil or vegetable oil, plus a little more if needed

1

large

white onion, cut into 1/4-inch pieces

2

fresh poblano chiles,

roasted, peeled, seeded and cut into 1/4-inch pieces

2

medium-small

red ripe tomatoes,

cut into 1/4-inch pieces

3

garlic cloves, peeled and finely chopped

Salt

8 to 10

flour tortillas
Instructions
1. Shred the beef jerky. Lay the jerky on a baking sheet and set under a heated broiler. In 1 to 3 minutes, depending on the thickness and dryness of the jerky, the fat will bubble on the top and the edges will be lightly browned and crispy. Cool the meat, then tear into thin shreds. Reduce the shreds of meat to fluffy, fine threads: Either pound them a little at a time in a mortar (it should look like a coarse, loose felt), or process them in 2 or 3 batches in the blender, pulsing the machine on and off quickly, until the meat looks like a fluffy heap of light-brown threads.
2. Make the filling. Heat the lard or oil in a medium (10-inch) skillet over medium high. When the oil is hot, add the onion and cook, stirring frequently, until it begins to brown, about 5 minutes. Add the threads of jerky, reduce the heat to medium and stir frequently until the mixture is well browned and the meat crispy, 5 to 7 minutes more. (If the meat absorbs oil immediately, add enough so the mixture fries and browns rather than toasts.) Add the poblano, tomato and garlic and cook several minutes until the mixture is homogenous. Taste and season with salt (jerky can vary widely in saltiness so salt carefully).
3. Finish the burritos. Roll 1/4 cup filling in each warm flour tortilla and serve at once.