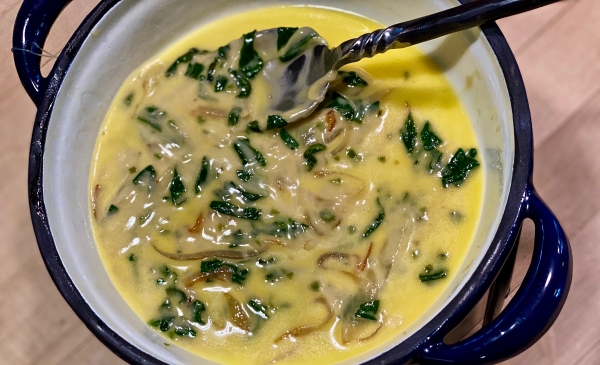 Queso fundido is, literally, melted cheese. That is, cheese put into an earthenware dish and melted beside or over a bed of coals, as you'll see in pretty much every northern-style steak or cabrito restaurant throughout Mexico. It is definitely not queso dip that's popular in the American southwest and beyond. You dip queso with chips. You scoop queso fundido into a hot tortilla and roll it into a soft taco. You almost always make queso with processed cheese so that it stays creamy and fluid over heat for a long time. You make queso fundido with natural cheese and eat it quickly before it seizes. For this recipe, I've taken a page out of the fondue playbook and added a little beer (or white wine) to the mix. Yes, it adds a little flavor, but its acid (just like the acid in fondue's white wine) creates a creamier texture that doesn't cool into a solid lump so quickly. Traditionally, you order queso fundido plain or with chorizo, roasted poblano rajas or both. Today's cooks think outside that box and anything you can imagine pairing with cheese has likely been put in a queso fundido. For this recipe, I offer you 4 easy choices: roasted poblano rajas, spicy mushrooms, corn or spinach—any of which will gladly welcome a little cooked chorizo. If you're using the poblano or red pepper, roast it over an open flame (or close up under a hot broiler), turning it regularly until it is charred all over. Cool it until it is handleable, then rub off the charred skin, tear it open and pull the stem and seed pod, then rinse briefly to get rid of any stray seeds or bits of skin.
Ingredients
2 to 3

tablespoons

olive or vegetable oil, plus a little more if needed

1 1/2

cups (4 ounces)

sliced woodland mushrooms (I particularly like the combination of shiitake with maitake or oyster mushrooms)—1/4-inch slices is perfect OR 1 cup corn kernels, fresh or defrosted frozen OR 1 cup spinach, stemmed and cut crosswise in ½-inch slices OR 2 medium (8 ounces total) fresh poblano chile or red pepper, roasted, peeled and cut into. ¼-inch strips

1

small (4-ounce)

onion, cut into ¼-inch slices

Hot

green

chiles to taste (1 to 2 serranos, 1 small to medium jalapeño), stemmed, seeded (if you wish) and finely chopped (you may want to omit this chile if using poblano)

Salt

1/3

cup

beer (a pilsner like Bohemia or lager like Dos Equis Especial—anything on the tart side side—works well here) or tart white wine

8

ounces

beautifully melting, not-too-strong cheese like Monterey Jack, Colby or young cheddar, shredded (you'll have about 2 cups)
Instructions
The vegetables.  For the mushrooms (if using the corn, spinach or poblano chile or red pepper, they do not have to be precooked before being added later): In a large (10-inch) skillet (preferably non-stick), heat the oil over medium high.  When hot, add the mushrooms and stir nearly constantly until they have begun to brown and any liquid they've let out has evaporated, about 4 minutes.  With a slotted spoon, remove the mushrooms to a plate, leaving behind as much oil as possible.  
For all versions: Set the large skillet over medium heat (if there's not enough oil left in the pan from cooking the mushrooms, add a little more).  Add the onion and cook, stirring regularly, until it has begun to turn translucent, about 3 minutes.  Add green chile and cook until the onions brown, about 3 minutes more.  Stir in the mushrooms, corn, spinach or poblano chile or red pepper and heat through (the spinach needs to be thoroughly wilted), then taste and season with salt, usually ½ teaspoon.
Finishing the queso fundido.  Add the beer or wine to the skillet and bring to a simmer over medium heat.  Let it reduce by about half, then   add the cheese a handful at a time, stirring until the first addition is melted before adding the next.  When all has been incorporated, scrape the mixture into a warm serving dish (one that you can set over a tealight candle is ideal) and serve with warm flour or corn tortillas for making soft tacos.