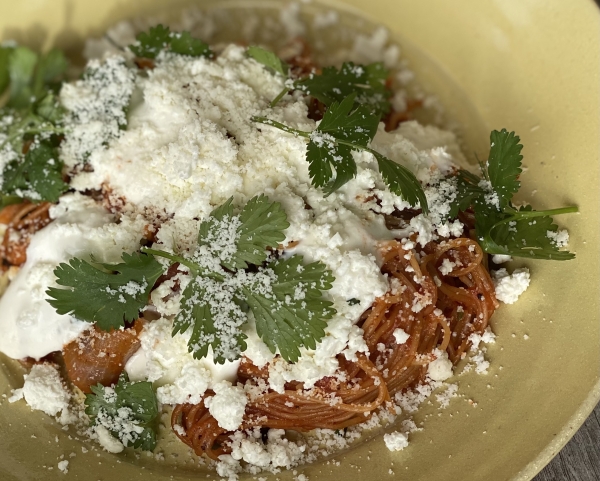 When someone makes fideo seco, as this dish is often called in central Mexico, they're usually thinking about rich creaminess shot through with canned chipotle, maybe some chorizo. The noodles—toasted and simmered in the tomatoey sauce—become the perfect, buoyant vehicle for all that flavor. But don't think of the "seca" part of the Spanish title as indicating that the dish is dry, as that word would translate into English. Instead, this preparation—which we'd all recognize as looking more-or-less like a typical, not-too-saucy pasta dish—is dry in comparison to the more typical way of serving fideos, which is in a brothy soup. And that soup is one of the most common and comforting family meals in Mexico. In fact, I'd go as far as to say that it's Mexico's version of our planet's restorative chicken soup, except that Mexico loves chicken soup too—of course, served with spoonfuls of raw onion, green chile and cilantro, plus a big squeeze of lime. Mexico simply loves dishes that are soupy. Now, about the toasting of noodles—or the use of noodles at all in Mexican cooking. Though traditional Mexican cooks aren't known for pasta dishes, the vermicelli-like dried pasta called fideos is a pantry staple. It is in parts of Spain, too (another country with few pasta specialties), where the same fideos are found in a paella-like preparation called fideuá. And in that preparation, they toast the dry pasta in oil, just as they would rice, which brings us all the way to Mexico and its toasted pasta fideo dishes. While I admit that there is something thoroughly craveable about the most traditional fideo seco dish, topped with dollops of crema, grated añejo cheese, crispy chorizo and cubes of avocado, this version gives it a run for its money. Same chipotle-infused sauce enriched with caramelized onions, mushrooms and bits of dark pasilla chile, then strewn with goat cheese, crema and herbs. All that said, crispy chorizo, diced avocado and añejo cheese wouldn't be at all out of place here, should you want to add them.
Servings:
4
as a main course, 6 to 8 as a smallish first or pasta course
Ingredients
A 10-ounce

package

dried fideo (vermicelli) noodles (I like the thin ones, called "angel hair," that are sold in coils)

3

tablespoons

olive or vegetable oil, plus extra for spraying or brushing the noodles

1

medium

white onion, cut into ¼-inch slices

6

ounces

oyster or other interesting mushrooms, tough stems removed, cut into ¼-inch slices (you'll have about 2 ½ lightly packed cups)

3

pasilla chiles, stemmed, cut crosswise into 1/8-inch rings, seeds shaken free and discarded

Two 15-ounce

cans

fire-roasted tomatoes with their juice

2

canned

chipotle chiles en adobo, seeded if you wish

About 1/2

cup

chopped cilantro, plus a big handful of leaves for garnish

1 2/3

cups

chicken or vegetable broth

Salt

A generous 1/2

cup

Mexican crema, crème fraiche or whipping cream

About 4

ounces

crumbled fresh goat cheese (about 1 cup loosely packed)

About 1/4

cup

grated Mexican queso añejo (Cotija) or other garnishing cheese like Parmesan or Romano (optional)
Instructions
Toast the pasta.  Heat the oven to 375 degrees.  Lay the pasta on a baking sheet and spray or brush evenly and liberally with oil. Bake for 8 to 10 minutes, until richly golden.
Make the sauce.  Meanwhile, heat 3 tablespoons oil a very large (12-inch) skillet over medium-high.  Add the onion and mushrooms and cook, stirring frequently to keep the mixture moving in the pan, until the onions are browning, about 7 minutes.  Add the pasilla chile strips and cook a couple of minutes longer to toast them. In a blender, combine 1 can of the tomatoes with the chipotle and blend to a smooth puree.  When the onions are ready, add the tomato puree, the second can of tomatoes and the chopped cilantro.  Cook, stirring frequently, until reduced and thick, about 5 minutes, then stir in the broth.  Taste and season with salt, usually a generous teaspoon depending on the saltiness of the broth.
Finish the dish.  When the sauce comes to a boil, nestle in the toasted vermicelli and reduce the heat to medium.  After about 4 minutes couple of minutes the pasta will begin to soften; pull apart the "nests," if that's how your vermicelli was packaged.  Simmer until the pasta has absorbed much of the sauce and is tender but still firm, another 3 or 4 minutes more for the angel hair vermicelli.  Mix in half of the crema or crème fraiche (if using whipping cream, add it all). Taste and season with more salt if you think it needs some.
Serve.  Divide the fideos between warm deep plates or pasta bowls.  Thin the remaining crema or crème fraiche with a little milk or water and drizzle it over the pasta.  Scatter on the goat cheese and garnish with the optional queso añejo and cilantro leaves.