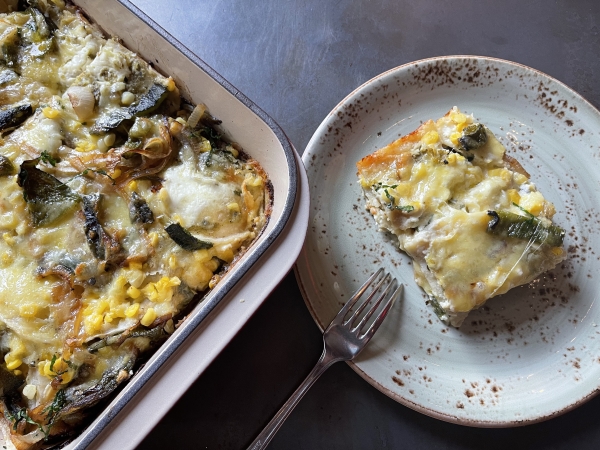 Like a good lasagna, a homey pastel azteca is a luscious layering. There's a punchy salsa verde here (some cooks use cooked tomatillo or tomato sauce) with creamy, cheesy richness and the inimitable flavor of roasted poblano rajas. And it's tortillas that separate the layers, not pasta. If meatiness is what you're after, buy a rotisserie chicken (or maybe grill some chicken), pull the meat off the bones and coarsely shred it to layer in with the poblanos. Or if a dish that's more vegetable-forward appeals, add roasted sliced fennel or diced zucchini, broccoli or eggplant into the beautiful richness. Pastel azteca is very welcoming, which is why I've included the less traditional ricotta (requesón, as they call it in Mexico, is easily available) in with the crema. I think it gives this pastel azteca a beautiful balance.
Ingredients
For the salsa:

1 1/2

pounds (about 12 medium)

tomatillos, husked and rinsed

8

garlic

cloves, unpeeled

Fresh hot

green chiles (start with 2 large serrano or small jalapeño chiles, but feel free to use any fresh chile), stemmed

Big

handful

of fresh cilantro

Salt

For finishing the dish:

4

(about 1 1/4 pounds)

fresh poblano chiles

2

tablespoons

vegetable or olive oil

2

medium (12 ounces)

white onion, sliced ¼-inch thick

1

cup (8 ounces)

ricotta (preferably the drier type you find in most Mexican markets or what is often sold as "hand-dipped")

1

cup

Mexican crema, crème fraiche or heavy cream

1 1/2

cups

corn kernels (about what you'll get from 2 cobs)

A dozen or so

epazote leaves (if you have them), chopped

12 ounces

(3 cups)

shredded Mexican melting cheese (such as Chihuahua, quesadilla or asadero) or Monterey Jack, brick or mild cheddar

20

6-inch

corn tortillas (preferably from a local tortillería)

Vegetable

oil

to spray or brush on the tortillas
Instructions
Make the salsa.  Spread the tomatillos, garlic and chiles onto a baking sheet and slide close up under a preheated broiler.  After 5 or 6 minutes, when everything is blotchy black in places, flip them over and roast the other side.  The chiles and garlic will be ready in a couple of minutes; the tomatillos will take 5 or 6 minutes longer. Scrape everything into a blender jar or food processor—juice and all—and add the cilantro.  Cover loosely and blend to a coarse puree. Taste and season highly with salt, usually a scant 2 teaspoons. (You will have about 2 ½ cups of salsa) Turn the oven to 400 degrees.
Make the rajas.  Roast the poblanos over an open flame (or close up under a broiler), turning regularly until the skin is uniformly blackened.  Cover with a kitchen towel and cool until handleable. One by one, rub off the blackened skin, tear open and pull off and discard the stem and seed pod, then scrape out all the seeds that cling to the veins.  Briefly rinse to remove stray seeds and bits of blackened skin. Slice the poblanos crosswise in ¼-inch strips.
In a very large (12-inch) skillet, heat the oil over medium-high.  When hot, add the onion and stir regularly until richly browned, about 7 minutes—you want them browned, but still nicely crunchy.  Stir in the poblanos and season with salt, usually about 1 teaspoon.
Layer and bake the pastel azteca.   In a medium bowl, stir together the ricotta and crema (or one of its stand ins).  Set out the corn, epazote (if using) and shredded cheese alongside the rajas and salsa.  Brush or spray both sides of each tortilla with oil, slide them into a plastic bag (don't seal) and microwave for 1 minute.  Remove and let stand for a minute before you start layering.
Smear a light coating of salsa over the bottom of a 13x9-inch ovenproof baking dish.  Next, cover the bottom with 5 tortillas:  Cut 3 in half and line the flat sides around perimeter of the dish (2 halves on each long side, 1 half on each end); lay 2 tortillas in a single layer in the middle.  In the following order, distribute 1/3 of each preparation or ingredient evenly over the tortillas:  ricotta mixture (about 2/3 cup), corn (about ½ cup) and epazote (if using); splash on ¼ of the salsa (about 2/3 cup) and sprinkle on ¼ of the melting cheese (about ¾ cup).  Make 2 more layers exactly the same, starting with 5 tortillas. Ingredients tend to dome in the middle, so take a moment to level out each layer before going on to the next.  Lastly, cover the top with the 5 remaining tortillas (placed as in other layers) and evenly spread on the remaining salsa and sprinkle with the remaining cheese.  Bake 30 minutes, until hot through and richly browned on top.  Let stand for a few minutes before cutting into squares and serving.