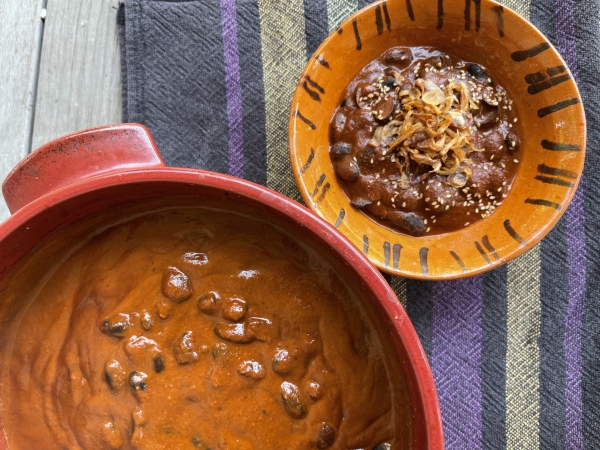 Some add other nuts (most commonly almonds), a few leave out nuts all together, many thicken with bread, a few add plantain, and a bunch add cloves and allspice and other herbs like thyme and marjoram.
Servings:
8
cups, enough to serve 6 as a main dish, 10 as a side dish
Ingredients
1

pound (about 2 2/3 cups)

dried runner beans (or you can choose black beans or red beans), picked over for any stones or debris

Salt

3

ounces (about 6)

dried ancho chiles, stemmed, seeded and torn into flat pieces

1 1/2

ounces (about 6 large)

dried guajillo chiles, stemmed, seeded and torn into flat pieces

1/3

cup (about 1 1/2 ounces)

sesame seeds

1

medium (6-ounce)

onion, sliced ¼ inch thick

6

garlic cloves, unpeeled

A

15-ounce can

fire-roasted tomatoes, undrained

1/2

cup (about 2 1/2 ounces)

raisins

1/2

teaspoon

freshly ground black pepper

1/2

teaspoon

ground cinnamon, preferably Mexican canela

1/2

teaspoon

Mexican oregano

2

tablespoons

fresh-rendered pork lard or vegetable oil

3

cups

broth (vegetable, chicken or pork), plus a little more if needed

1/2 of a 3-ounce

round

good-quality Mexican chocolate, chopped (finely chopped it will be about ¼ cup)

A

little

sugar
Instructions
Cook the beans.  Scoop the beans into a large (4-quart) saucepan, cover with water by 2 inches, add 1 teaspoon salt, bring to a boil over high heat, partially cover and reduce the heat to medium-low.  Very low simmer (190 to 200 degrees) until the beans are tender, about 3 hours (or longer) for runner beans, 1 ½ to 2 hours for others. If the water drops below the level of the beans, add more.   They are ready when the exterior is tender and the interior is creamy.
Toast and soak the chiles.  While the beans cook, heat a large (10-inch) skillet to medium.  A few pieces at a time, toast the chiles, pressing them flat against the hot surface for a few seconds with a metal spatula, until they change colors slightly and release their aroma.  As the chiles are toasted, collect them into a bowl, cover them with hot tap water, weight with a plate to keep them submerged and let rehydrate for 20 to 30 minutes.
The other flavorings.  In the skillet still set over medium, toast the sesame, stirring regularly for a couple of minutes, until it turns uniformly golden.  Scrape into a blender jar.  Return the pan to the heat, line it with a piece of foil (for easy clean up) and lay on the onion slices and garlic cloves.  Roast until the onion is richly browned (even a little charred) and the garlic is soft, 7 to 10 minutes.  Transfer the onion to the blender.  When the garlic is cool enough to handle, peel it and add to the blender.  Add the tomatoes, raisins, pepper, cinnamon and oregano.  Blend as smooth as possible, then strain through a medium-mesh sieve back into a bowl.  
Cook the coloradito.  Without washing the blender, use a pair of tongs to transfer the chiles to the blender jar, measure in 1 cup of the soaking water and blend as smooth as possible (if the puree is too thick to go through the blades, add just enough liquid to facilitate its movement).  Set a large (4-quart) saucepan over medium-high heat.  Add the lard or oil, set a medium-mesh strainer over the pot, and when the fat is hot enough to make a drop of the chile puree sizzle sharply, press the chile puree through the strainer into the hot oil.  Stir continually until the mixture darkens and is as thick as tomato paste, 8 to 10 minutes.  Add the tomato mixture and continue stirring until reduced, thick and very aromatic, another 8 to 10 minutes.  Add the broth and chocolate, reduce the heat to medium-low, partially cover and simmer for at least 30 minutes (or an hour or two if you have time) to bring the flavors together.  
Serve the coloradito.  Use a slotted spoon to scoop the beans into the coloradito.  If the sauce is thicker than, say, a medium bean soup, add a little more broth or water.  Taste and season with salt, usually about 2 teaspoons, and just enough sugar to bring out the fruitiness of the chiles, usually about a of teaspoon.  When the beans are warm, you're ready to serve.  
Other ways to serve coloradito: This sauce is one of the most common enchilada sauces in Oaxaca.  Fill the enchiladas with coarsely shredded chicken or pork (or fold them in quarters with no filling as they often do in Oaxaca); my favorite filling for enchiladas de coloradito is Oaxaca-style shredded pork picadillo (page 000). Coloradito is delicious on grilled chicken, squail, duck, pork chops and rich-tasting, meaty fish like swordfish.  You can simmer cubed pork shoulder in salted water (with sliced onion and halved garlic cloves) until tender, strain it, use the broth for the coloradito, then dry off the pork and brown it (preferably in rich-tasting pork lard) before adding it to the sauce to heat through.