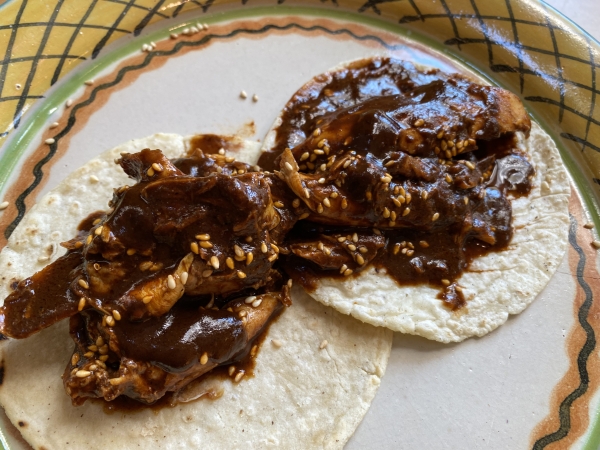 Yes, you could buy a mole paste, simmer it briefly with chicken stock and stir in coarsely shredded chicken for quick-and-easy, oh-so-Mexican chicken tacos. But the truth is, I haven't found a mole paste in the United States I can whole heartedly recommend. So, to offer you the simplest path to this quintessentially Mexican flavor, I put together this unorthodox, super-streamlined mole recipe using a slow cooker, one that turns out a very respectable, satisfyingly delicious red mole to mix with chicken. I typically start the mole early in the morning, spending about 20 minutes getting everything sauteed and simmering in the slow cooker. Then I come back to it a couple of hours before serving to puree the mix, and do the final simmer seasoning. Two notes: First, this recipe gives you about 10 cups of mole, which is comically more than you need for the tacos. But it is the smallest batch you can successfully make in the slow cooker, and, besides, it freezes well and is more than welcome on a plate with poached or grilled chicken and as the sauce on enchiladas. Second, I wish I could tell you to make it with all ancho chiles—the most easily available dried chile—but the mole doesn't come out with a true Mexican flavor; you need to have the complexity that the other two dried chiles add.
Servings:
10
cups of red mole (you only need 2 cups to finish this recipe), 3 cups of filling, enough for 12 tacos
Ingredients
1/2

cup

rich-tasting pork lard or vegetable oil, plus a little more if needed

6

medium

(about 3 ounces total) dried mulato chiles, stemmed, seeded and torn or cut into roughly 1-inch pieces

3

medium

(about 1 ½ ounces total) dried ancho chiles, stemmed seeded and torn or cut into roughly 1-inch pieces

4

medium

(about 1 ½ ounces total) dried pasilla chiles, stemmed, seeded and torn or cut into roughly 1-inch pieces

4

garlic cloves, peeled

3/4

cup

(about 3 ounces) whole almonds (with or without skins)

1/2

cup

(about 2 ounces) raisins

1

15- ounce can

diced tomatoes (preferably fire-roasted), undrained

1/2

teaspoon

ground cinnamon, preferably Mexican canela

1/2

teaspoon

ground black pepper

1/4 to 1/2

teaspoon

ground anise seed

A scant 1/8

teaspoon

ground cloves

1

ounce

(about 1/3 of a roughly 3-ounce tablet) best-quality Mexican chocolate

1

slice

firm white bread darkly toasted and broken into several pieces

Salt

3

tablespoons

sugar, plus additional for final seasoning

About 6

cups

chicken broth, plus a little more if needed

For the tacos:

1

medium

(2 ½-pound) rotisserie chicken, meat pulled from the bones and coarsely shredded (you'll get about 3 cups)

About 1/3

cup

toasted sesame seeds, for garnish

12

warm corn tortillas
Instructions
Prepare the mole base. If your slow-cooker has a removable cooking crock that can be placed directly on the heat, measure in the lard or oil and set over medium heat.  Otherwise, heat the lard or oil in a very large (12-inch) skillet.  When hot, add the chiles, garlic, almonds and raisins.  Stir slowly and continuously until the chiles are thoroughly toasted (the interior of each piece will become lighter in color) and the almonds have taken on a creamy color and toasty aroma—about 5 minutes. 
Add the tomatoes (with their juice), spices, chocolate and bread.  Cook until the tomato juices are reduced and quite thick, about 2 minutes.  Add 2 cups of water plus 2 teaspoons salt and 3 tablespoons sugar and stir to combine.  When the liquid comes to a simmer, transfer the crock to the slow cooker (or scrape the mixture into your slow-cooker).  Cover and cook on low for 6 hours—the liquid will be reduced to a glaze at this point. (The mixture can hold several hours on the cooker's "keep warm" setting if necessary.)
Finish the mole.  Scrape all of the mole base into a bowl, then scoop half of it into a blender jar.  Add 1 ½ cups chicken broth and blend until as smooth as possible (in many home blenders, this may take 4 o 5 minutes).  Pour the blended mole back into the crock of the slow cooker, then blend the second half with another 1 ½ cups broth.  Once all the mole is in the cooker, stir in 3 cups chicken broth, cover and cook on high for 2 hours. 
Serve.  Taste the mole and season with additional salt and sugar if necessary—I find it always needs another teaspoon of salt and a tablespoon of sugar (to bring out the natural fruitiness of the chiles). In a serving bowl, mix together the coarsely shredded chicken and 2 cups of the mole, sprinkle with sesame seeds and serve with the warm tortillas for everyone to make tacos.