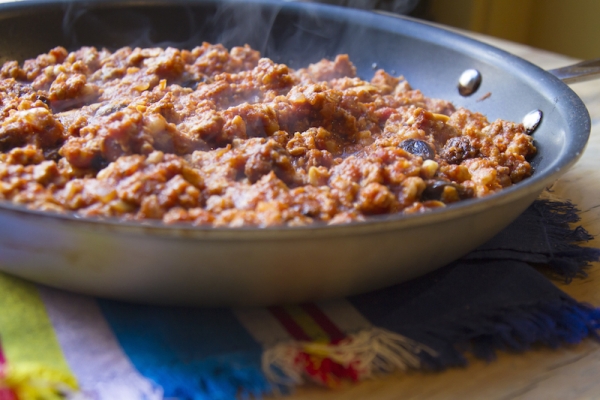 Picadillo is made all over Mexico—ground (or occasionally hand-chopped) beef or pork cooked with onions, garlic, chile, herbs or spices and tomato. When picadillo is served as a main course (typically with rice), it often has vegetables (often potatoes, carrots, peas) simmered in with the tomato. In Oaxaca, I found my favorite picadillo, made with pork, a local smoky chile and sweet spices instead of the often-used combo of oregano, cumin and black pepper. There's a sweet, dark smokiness here that I really love. And there's so much flavor that I don't think it needs any garnish.
Servings:
4
cups, enough for 16 tacos
Ingredients
1

medium

dried Oaxacan pasilla chile (chile mixe) OR 2 dried morita/chipotle colorado chiles, stems removed

1 15-

ounce

can diced tomatoes, preferably fire-roasted

1 1/2

tablespoons

vegetable oil

1 1/2

pounds

lean, coarse-ground pork

1

medium

onion, finely diced

4

garlic cloves, peeled and finely chopped

A generous ½

teaspoon

black pepper

1

teaspoon

cinnamon, preferably freshly ground Mexican canela

About 1/8

teaspoon

cloves, preferably freshly ground

1/3

cup

raisins

1 1/2

tablespoons

cider vinegar

1/4

cup

slivered almonds

salt

16

warm corn tortillas
Instructions
Make the bases.  In a dry skillet over medium heat, toast the chile(s) until fragrant.  Scoop into a bowl, cover with hot tap water, weight with a small plate to keep submerged and let rehydrate for 20 minutes or so.  Drain and scoop into a blender, along with the tomatoes (juice and all) and process to a puree. Heat the oil in a very large (12-inch) skillet over medium-high heat. When hot, add the pork and cook, breaking up clumps, until the meat changes color, about 5 minutes.  Add the onion and continue to cook, stirring regularly, until the onion is soft and the meat begins to brown, about 5 minutes. Stir in the garlic and cook 2 minutes longer. (If quite a bit of fat has rendered from the meat, drain it off.)
Put it all together and simmer.  Add the pepper, cinnamon and cloves to the skillet along with the tomato puree, raisins and vinegar. Simmer until reduced to a thick, homogenous mass, 30 to 45 minutes. While the mixture simmers, toast the almonds for about 10 minutes in a 325 degree oven Stir them into the reduced filling, season with salt, usually about 2 generous teaspoons, and it's ready to serve with warm tortillas for making tacos.