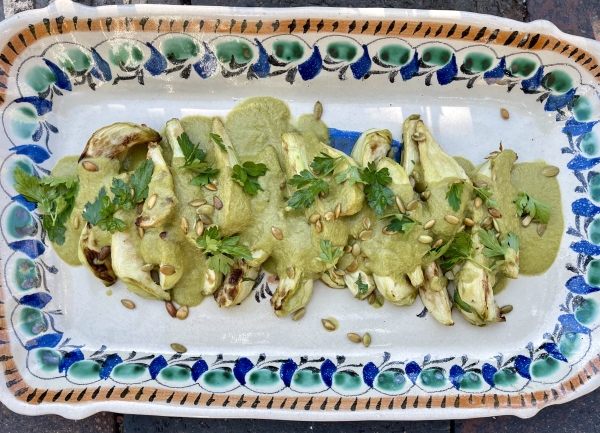 The classic Central Mexican version of green mole lays bare its indigenous roots—tomatillos, green chile, pumpkin seeds, herbs like epazote and hoja santa—all ingredients that have been grown since time immemorial on the stretch of earth we call Mexico. Over the centuries, new flavors have been introduced to the preparation—onions, garlic, sesame, cilantro, parsley—which have found their way into some cooks' versions. But at its heart, this quintessentially Mexican tangy tomatillo sauce thickened with earthy-nutty pumpkinseeds and perfumed with rustic herbs is pure, traditional flavor. I've mostly encountered mole verde served with chicken as a main dish, taco or tamal filling, but I think its flavor is also beautiful with pork (braised shoulder or shanks, grilled chops) or seafood—everything from halibut to salmon and shrimp. Here I've chosen to serve it with chayote because chayote is under-appreciated. When its juicy, light flavor is concentrated by roasting, this rich sauce is its perfect accompaniment. Serve it with Mexican white rice (with or without Golden Fried Plantains) or roast potatoes with the chayote to complete the plate.
Servings:
6
with about 3 cups (you'll likely have extra)
Ingredients
4

large ((about 2 ½ pounds total)

chayotes, peeled

3

tablespoons

vegetable or olive oil (divided use)

Salt

A little

chopped

fresh cilantro

1

large (about 6-ounce)

fresh poblano chile

1

pound (about 8 medium)

tomatillos, husked and cut in half

4

garlic cloves, peeled and cut in half

1

small

white onion, roughly chopped

1/3

cup

untoasted sesame seeds

1/2

cup

toasted pumpkinseeds (pepitas—use 1/3 cup if they are untoasted; see note below), plus a few more for garnish

1

gently packed cup (a scant ounce)

mixed fresh herbs (parsley, cilantro, epazote, radish leaves, even lettuce leaves), plus a few more for garnish

1/4

teaspoon

fresh-ground cumin seeds

1/2

teaspoon

fresh-ground black peppercorns

1

teaspoon

Mexican oregano
Instructions
Roast the chayote.  Heat the oven to 425 degrees.  Cut the chayotes in half (through the narrow side), scoop out the pit and cut each half into 3 spears. Scoop them into a bowl, toss with 2 tablespoons of the olive oil and a generous sprinkling of salt.  Line a baking sheet with parchment or a silicone baking mat, then scoop on the chayotes on top, spreading them into a single layer.  Roast until the chayote is tender and richly browned, 50 to 60 minutes.  Remove from the oven and sprinkle evenly with chopped cilantro.  
Roast the poblano.  Roast the poblano on an open flame or close up under a hot broiler, turning regularly until the skin is evenly blistered and blackened.  Cool until handleable, then rub off the blackened skin, tear open, pull out the seed pod and stem, then briefly rinse the chile to remove any stray seeds or bits of skin.  Roughly chop the roasted flesh and scoop into a blender jar. 
Make the mole base.  In a medium (2- or 3-quart) saucepan, combine the tomatillos with the garlic and onion.  Measure in 2 cups water and 1 teaspoon salt, then bring to a boil. Cook over medium heat until the tomatillos have almost completely lost their bright green color (flip them over half way through for even cooking), 7 or 8 minutes total.  While the tomatillos are cooking, measure the sesame seeds into a dry skillet, set over medium heat and cook, stirring very frequently, until lightly golden, about 3 minutes—don't let them darken too much. Scrape into the blender with the poblano.   Add the toasted pumpkinseeds, fresh herbs, spices and oregano.  When the tomatillos are ready, tip off the liquid into a measuring cup, then scoop the vegetables into the blender jar. Blend as smooth as possible.   
Cook the mole.  Set a large (4-quart) saucepan over medium heat.  When hot, add the remaining tablespoon of oil, wait a few moments for it to start shimmering, then add the puree all at once.  Stir nearly continuously as the mixture reduces and thickens, about 7 minutes—don't cook it so long that it darkens to a drab olive color.  Add 1 1/2 cups of the reserved tomatillo-cooking liquid, reduce the heat to medium-low, partially cover and simmer for 20 minutes, stirring regularly to insure the sauce isn't sticking on the bottom.  If the mole is thicker than a cream soup, stir in a little water.  Taste and season with salt, usually a scant 2 teaspoons.  
Optional reblending.  If you haven't used a high-speed blender like a Vitamix, you may want to create a velvety texture for the mole  by scooping it into a blender jar,  loosely covering, and blending for a minute or more. 
Finish the dish.  Rewarm the chayote in a hot oven, then divide between warm dinner plates.  Spoon the mole over the chayote.  Roughly crush a few extra toasted pumpkin seeds, strew them over the plates and you're ready to serve.  
A note about technique:  I am simmering the tomatillos here, rather than roasting them, because neither the sweetness or color of roasted tomatillos is appropriate for this herby, light-colored sauce.   
A note about seeds or nuts for thickening: While earthy-tasting pumpkin seeds are the most ancient, sesame has become traditional in mole verde as well.  Other nuts—peanuts, pine nuts, macadamias, pistachios, sunflower seeds, almonds and more—can be super-delicious, either singly or in combination, and can give this traditional sauce a new lease on life.  If you have untoasted pumpkin seeds, simply toast them in an ungreased skillet over medium heat, stirring them nearly constantly until all have popped from flat to roundish.  Don't let them darken much in the toasting process or the color of the sauce will be off.   
A note about herbs: The herbal element in many traditional recipes is a combination of the somewhat predictable indigenous epazote with (for North Americans) unpredictable romaine lettuce and radish leaves.  I use the radish leaves when I have them (romaine is very light flavored), but my favorite versions have a combination of parsley, cilantro and epazote, plus maybe a little hoja santa if it is available.  Sorrel—vinagrera, grown extensively around Toluca—can be good here, but not in large quantities. 
A note about nomenclature:  There are more than a handful of regional green moles in Mexico, though the two most well known versions are this Central style and the one from Oaxaca, which is herbier and thickened with corn masa instead of nuts or seeds. In Puebla, this same preparation is known as pipian verde, substituting the Spanish-rooted pipian for the Aztec-rooted mole.