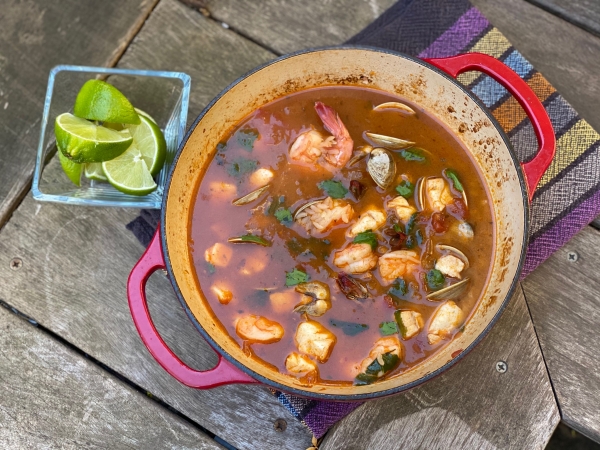 This brothy seafood and rice dish welcomes pretty much any and all seafood. That said, you don't have to make it into a big celebration dish. Truthfully, if that's my focus, I make a real paella. But when looking to make a nice but quick meal—what could be faster than weaving together jarred salsa, cooked rice and some seafood?—this version of Arroz a la Tumbada is special enough for company. But don't save it for that. Have some shrimp in the freezer? A frozen fish fillet? Your seafood rice will be delicious with just one type of seafood. About 10 to 12 ounces total will feed two people. Bivalves do make a difference though, so if I can swing it, I'll go by the store and get some mussels or clams to give the broth a wonderful flavor. The quantities below are for the full-blow version, the one you'll want to serve when you're really planning ahead.
Ingredients
For the broth

1

tablespoon

vegetable or olive oil

1

cup

Roasted Tomato Salsa

or store-bought (if using jarred salsa, choose one that isn't too vinegary)

2

cups

cups fish or chicken broth

A

big

sprig of epazote (or a handful of cilantro or parsley leaves)

Salt

For the seafood

About 1/2

pound

clams or mussels, scrubbed (and debearded if necessary)

4 to 5

ounces

shrimp (8 to 10 medium), peeled and deveined

4 to 5

ounces

boneless, skinless fish fillet (snapper, halibut, seabass—anything that's firm and has a good-size flake), cut into ½-inch cubes

About 1/2

cup

crab meat, if you're feeling flush

For finishing

1 to 1 1/2

cups

cooked white rice (done as a pilaf, Mexican style, if possible)

A

few

lime wedges, for serving, if desired
Instructions
Make the broth. Heat the oil in a large (4-quart) saucepan over medium-high. When hot, add the salsa and stir nearly constantly until reduced and thick, 4 to 5 minutes, depending on your salsa. Add the broth and herb and bring to a boil. Taste and season with salt, usually about ¼ teaspoon, depending on the saltiness of the salsa and broth.
Cook the seafood. Reduce the heat to medium and add the clams or mussels to the pot. Cover and cook until they begin to open, about 4 minutes. Stir in the shrimp, fish and optional crab, cover and cook for a couple of minutes longer.
Finish the dish. Add the rice to the pan, bring to a simmer and serve. Most salsa already has a good amount of tang, but you may want to squeeze on some lime for additional brightness.