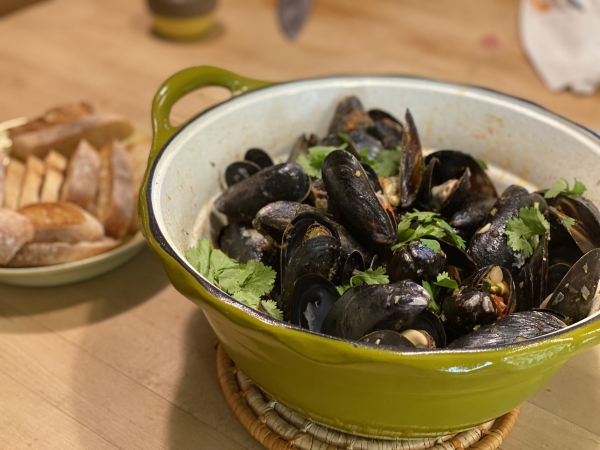 Servings:
4
as a first course or light meal
Ingredients
1/4

cup

olive oil

2

cups

Salsa Mexicana (aka pico de gallo)

made without lime juice

1

12-ounce

Mexican beer Mexican beer (I like one that is either very light and crisp like Tecate or one that is rich and malty like Modelo Negra—nothing with a lot of hops)

2

pounds (40 to 50 medium)

mussels, scrubbed, "beards" pulled off

Salt

A couple

limes, cut into wedges
Instructions
Cook the mussels.  In a large (about 8-quart) pot, heat the olive oil over high.  When hot, add the salsa all at once and stir, until all liquid evaporates and the mixture begins to brown (6-8 minutes).  Add the beer, bring to a boil, then add the mussels.  Cover the pot and let cook/steam, shaking and stirring the pot after a minute, until the mussels open, about 5 minutes. Use tongs or a slotted spoon to transfer the mussels to a serving bowl (discard any that haven't opened), leaving the pot on the heat.  Taste the broth and season with salt, usually a generous ½ teaspoon. Pour the broth over the mussels, sprinkle with a little extra cilantro and serve with lime wedges and crusty bread to dip into the broth.