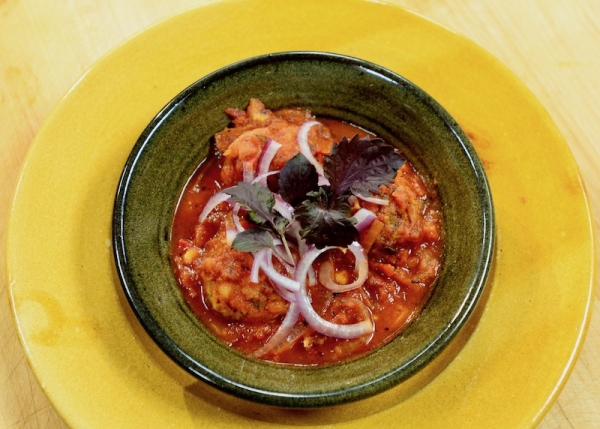 Servings:
4
as a light meal
Ingredients
1/2

pound (about 12 medium-large)

shrimp, peeled (and deveined if you wish)

1/2

pound

ground pork

1

egg

2

garlic cloves, peeled and finely chopped

1

tablespoon

grated fresh ginger

About 1/2

cup

chopped fresh cilantro (divided use)

2 to 3

teaspoons

toasted sesame oil

1/2

cup (packed)

cooked, cooled rice OR ¾ cup fresh breadcrumbs made from a soft, caky bread such as Pepperidge Farm white sandwich bread

Salt

2

tablespoons

vegetable oil, olive oil, bacon drippings or freshly rendered pork lard

1

small

red onion, cut into ¼-inch pieces

1

15-ounce can diced tomatoes, preferably fire-roasted, with their juice OR 12 ounces red ripe tomatoes, roasted close up under a broiler until soft and blackened on both sides, cooled, peeled and roughly chopped, with all their juice

1 or 2

red jalapeño chiles, stemmed, seeded and roughly chopped OR a couple of red Fresno or Caribe chiles, stemmed, seeded or roughly chopped OR a small red pepper, roasted until the skin is blackened on open flame or under a broiler, peeled, seeded or roughly chopped

1/2

cup

water, chicken broth, beer or white wine
Instructions
With a knife, chop the shrimp into small pieces—nothing should be over ¼-inch.  In a large mixing bowl, combine the shrimp, pork, egg, garlic, ginger, half of the cilantro, sesame oil, rice or breadcrumbs and 1 teaspoon salt.  Use your fingers or a spoon to mix everything together evenly without beating or compacting the mixture too much (which will result in dense meatballs).  Form into 12 balls, rolling them gently between the palms without pressing too hard.   
In a very large (12-inch) heavy skillet, heat the oil (or its stand-in) over medium.  Lay in the meatballs in a single, uncrowded layer.  Strew the chopped red onion around the meatballs.  With tongs or a spatula, turn the meatballs (and stir around the onions) until they are browned on all sides, about 8 minutes.   
While the meatballs are browning, in a blender jar combine the canned or roasted fresh tomatoes, chiles (or red pepper), the remaining half of the cilantro and the garlic.  Process to a coarse puree.  Pour the tomato mixture over the browned meatballs, cover the pan (if you don't have a large lid, use a cookie sheet) and reduce the heat to medium-low.  Simmer until the meatballs are cooked through, about 10 minutes.   
Remove the meatballs to 4 warm dinner plates, leaving behind as much sauce as possible.  Stir the water (or other liquid) into the skillet, raise the temperature to medium-high and bring to a let simmer for a minute or two.  Season with salt (usually about 1 teaspoon).  Spoon over the meat balls and you're ready to serve.